Your walls are like a blank canvas, waiting for you to infuse them with personality, charm, and creativity. Whether you're moving into a new place or looking to refresh your current home, wall decor is the perfect way to showcase your unique style and make a statement.
In this exciting guide, we'll take you on a journey through a diverse collection of creative wall decor ideas that cater to every taste and aesthetic. We believe that decorating your walls should be an enjoyable and fulfilling experience, one that allows you to explore your imagination and express yourself in a way that resonates with your soul.
From modern and minimalist to bohemian and eclectic, we've gathered an array of inspirations that transcend trends, enabling you to curate a space that truly reflects who you are. Embrace your inner artist and let your walls become an extension of your personality, interests, and passions.
You don't need to be an interior designer to create stunning wall arrangements. Our curated selection of ideas and tips will empower you to experiment with different textures, colors, and layouts, turning your walls into a captivating gallery that captivates both residents and guests alike.
Remember, wall decor isn't just about aesthetics; it's about creating an atmosphere that nurtures positive energy and reflects the essence of your home. Let's dive into these innovative and captivating wall decor ideas that will inspire you to make your mark on your living spaces. Get ready to express your style and turn your walls into a captivating canvas of self-expression. Let the journey to personalized wall decor begin!

1) Artful Wall:
Having a blank wall at your home is like a piece of black stone between a bunch of diamonds. Sometimes walls can be a source of imagination. You just start imagining the pictures inside your mind covering up the whole blank wall. But sometimes it's just a wall with plain paint, so decorating a wall with some art will not only give a boost to your room but it will also help in making your room look creative. You can hang different art pieces that have historical, fictional, creative, etc. stories. Whenever someone looks at your wall they'll get an idea of what power art has. 
2) Hanging Mirrors:
There are many ideas for wall decor but mirrors can steal the show because decorating walls with mirrors will make your space look more elegant. It can be used as a quick makeover of your look too when you have some urgent work and have to go outside. Mirrors can make your room look more massive than it really is. There are many options for decorating your room when it comes to mirrors, you can decorate with a whole wall-size mirror, you can decorate with more than one mirror or you can decorate a mirror with some beautiful flowers. One can never run out of options when it comes to mirrors.
3) Install Some Knowledge With Shelves:
Bookshelves are the reason for bringing energy during boring days. Maybe most people don't like reading but for wall decor in bedrooms or other rooms, bookshelves can be a great idea. It can give a vibrant look to your place. Moreover, bookshelves can take up most of the space on the wall so there is no need to bring other decoration things for the wall if you are using books as decoration. You can cover the whole wall or half wall with a bookshelf and it will never fail to impress anyone. It is the easiest form of decoration. You just have to bring in some books and magazines and your wall is ready.
4) Memorable Frames:
Sometimes it's stressful to think about ideas for wall decor because not everyone has leisure time. So one of the easy ideas is to make your wall memorable with different photo frames. With different family and friends photos, the wall will look beautiful with those memories. As there are many styles, types, and colours of frame you can choose what best fits your memories. Sometimes you can choose frames as per your favorite colours or favorite colours of your family and friends. Sometimes you can opt. for frames that can complement the wall colour. See? You can never run out of options when it comes to frames.
5) Creativity With Plates:
Do you think you can use plates only for food? Then you might be wrong because plates have many uses, especially plates with different colours, designs and styles. You can hang some plates on the wall or make a shelf on the wall with colourful plates. Although it does not sound good while reading, when you implement this idea in reality it will definitely look good for wall decor because it is different from the usual ideas everyone thinks and yet it is unique. Plates can sometimes break so it's better to use aluminium or any other plate other than the one made with glass.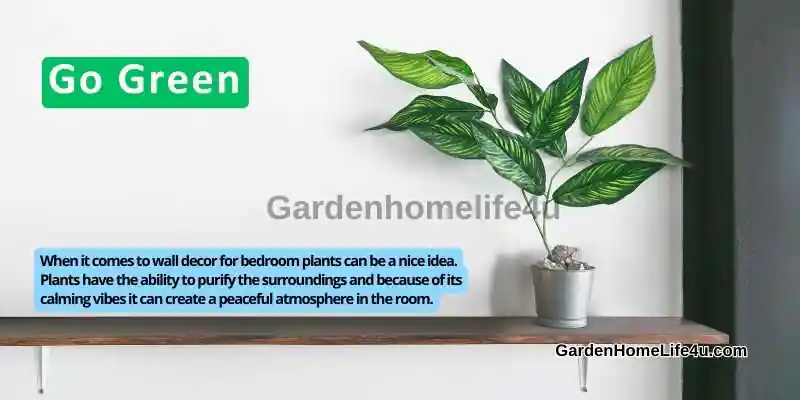 6) Go Green:
When it comes to wall decor for the bedroom plants can be a nice idea. Plants have the ability to purify the surroundings and because of their calming vibes, it can create a peaceful atmosphere in the room. When you feel like you have run out of ideas for wall decoration, you can always opt. for plants because it will look good no matter what category of plants you bring. Greenery is always the best option for bringing some outside vibes to your home. You can choose to decorate the walls of your house with plants, other than bedroom walls too because it will look good anywhere.
7) Go Floral:
It's not surprising that flowers are the best option for decorations. Whether it is some occasion or just simple wall decor for the bedroom or the whole home, flowers are a beautiful option for decorations. So if you are looking for ideas for wall decor try going floral. Walls with different colored flowers decorated on it will give refreshing vibes to your space. It's fragrance and different kinds and colors are like the most wonderful gift given by God. So, to decorate your wall with something simple yet good-looking, flowers can be the easiest option available. Besides decorating walls with flowers is one the ideas that never goes in vain.
8) Luminous Paper Lights:
Thinking about something that can tackle the darkness in the room anytime you want? What can be better than paper lights? From the wall decor of the bedroom to kitchen to the living paper lights is one of the common ideas for wall decor of every room. As its beautiful lights spread around the room, it will make your room look more elegant and stunning. Paper lights can be used as decoration anytime. It's one of easy ideas but still it holds a good place when it comes to decoration. You can hang it on the wall even when it's not something lavishing it will look mature. 
9) Comfortable Rugs:
Winter is just around the corner and it's that time of year when rugs can be your best friend. But did you know rugs can be used as wall decor for bedrooms or any other room? Different coloured rugs with different patterns and styles are one good idea for wall decor. Rugs can give warmth on winter days and creative vibes on other days. Many of you might have heard about these ideas but most of people think that it's a lousy idea. To clear up the air, the decoration of a wall with rugs looks best when you try to implement the idea in reality.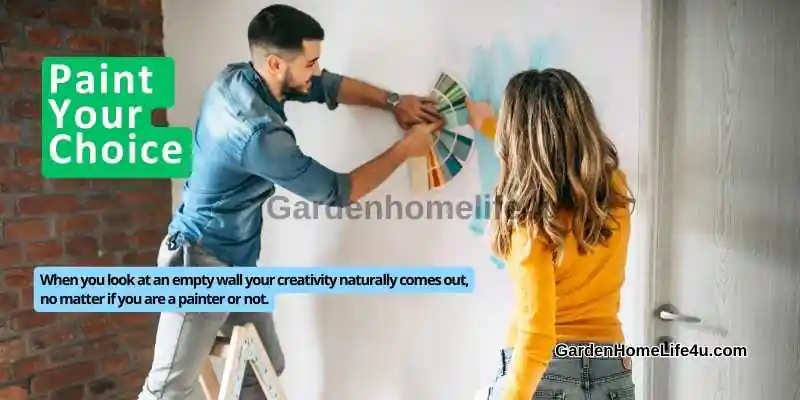 10) Paint Your Choice:
When you look at an empty wall your creativity naturally comes out, no matter if you are a painter or not. Even children start drawing even though they don't know a thing about painting. That's called art. It can be helpful when you are thinking of decorating your wall. You can paint or ask the workers to paint as you want.  From vintage paintings to simply floral pattern painting everything looks good with paint. As paints are available in so many ranges of colours you can use different colours to unleash some great ideas from the creative mind. You can opt. for colours of the rainbow for wall decorations because it has seven different colours and walls with different colours always look stunning and beautiful.
11) Your Letter:
Everyone loves having a wall decor of a bedroom with their own name or initial word of the name. So, decorating your room with the initial letter of your name or your favorite person's name is a good idea. It shows that your room has your vibes, and your own personal style when someone enters your room. Besides, it's not a bad idea to have one of the letters of your name or your whole name as wall decor because it shows the authority of your room in a simple yet firmly. Imagine walking into a room and seeing your name or initial letter hanging on your, wouldn't it look stunning?
12) Your Favourites:
Do you have a wall that looks clumsy even after decoration? Try something new and unique sometimes. Try to think about your favourite people, animals or things and adorn your wall with those favourite things that can make your wall look amazing. From hats to favourite cameras or favourite pieces of artwork, you can use a wall as your signature wall because your favourite things can also be handy when you quickly need some ideas for wall decor. Have you ever imagined your favourite things can be a source of decoration for an empty wall? Walls will look like someone has given their personal views and lavished with your favourite decorations.
These are some of the ideas that can be useful on any occasion but also when there isn't any special occasion. Decorating a blank wall isn't easy but it's not impossible, especially with these thoughtful ideas. So have a cup of tea, relax and read and try to implement these ideas. Wall decor looks amazing after some simple decorations and these are the simplest ideas to help you.