Are you looking for the best garden furniture? Summer is at its peak and we all are free from many Pandemic restrictions. It is the time to enjoy mother nature by lounging in your garden or inviting a few friends over for a garden tea party or alfresco dining.
Whether you want to enjoy it by yourself or plan a barbecue party, one thing you will need is some outdoor or garden furniture to go with your plans. No matter if you have a small garden or big, having garden furniture is a must if you want to bring out the aesthetics and show your personality.
Sure, when you think of garden furniture, you also think of heavy downpours and severe weather conditions which means the hassle of dragging around your furniture. No worries, now you can get the weather-resistant patio furniture in many materials without compromising your style.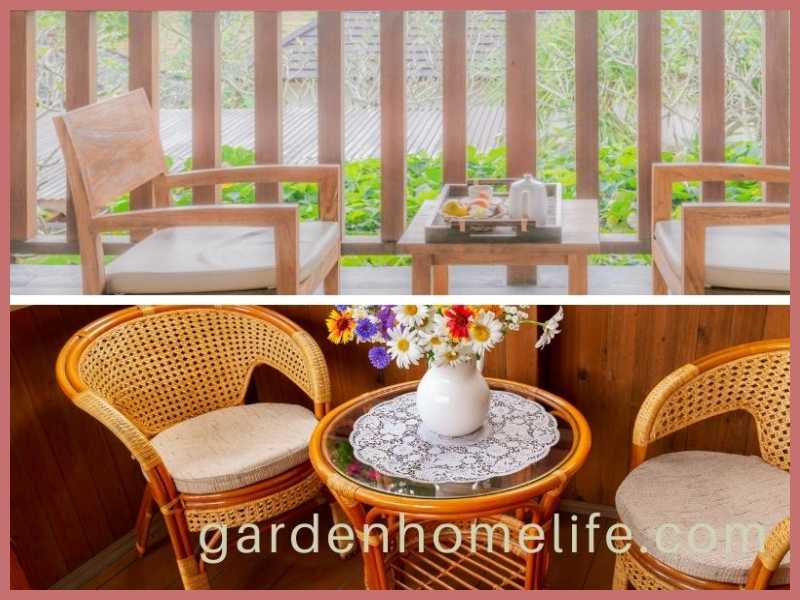 How To Choose The Best Garden Furniture?
Your design of garden furniture should match the idea of how you want to enjoy your outdoor summertime. Are you the person who likes to have company and like organizing get-to-gathers with your family and friends or do you like to enjoy your garden time quietly while getting soaked in the sun?
There are 3 main factors to consider before you buy the best garden furniture.
1. Consider how you want to utilize your outdoor time
If you are a party person then you should consider garden furniture with large seating options such as a garden table set for alfresco dining, garden cushion and sofa set, or garden metal or brick BBQ set.
But if you like quiet summertime then you might prefer garden furniture like deck chairs, sun loungers, or garden bistro set under your garden pergolas and gazebos.
2. Think about the storage for garden furniture
Though garden furniture is meant for staying outside only, many manufacturers would still suggest you store furniture inside in rough weather conditions or buy some best outdoor furniture covers for protection. Therefore, you must think about the storage situation before buying the best garden furniture.
It is also advisable to have garden gazebos so those dark clouds and gloomy weather won't interrupt your gatherings. If you are worried about storage then you can opt for ceramic and metal garden furniture with powder coating or simply choose the foldable garden furniture that is easy to store. Buying a garden shed or cabin will also come in handy.
3. Learn about the garden furniture material
There are many options when it comes to choosing the material of your garden furniture such as garden oak furniture, synthetic plastic, metal, ceramic, or recycled plastic materials. They all are good materials for outdoor furniture and can sustain in different weather conditions.
One more thing, you might think size is an important factor but you really don't have to worry about it because there is an unlimited variety of garden furniture available online for all types of garden, just choose accordingly.
What Type Of Material Is Good For Outdoor Furniture?
You can divide the outdoor furniture materials into 4 categories. All types of materials have a long life but some require more maintenance than others and have a different price range. Whatever material you choose for your outdoor furniture you never have to compromise with your style because there are myriad possible designs and features for you to choose from.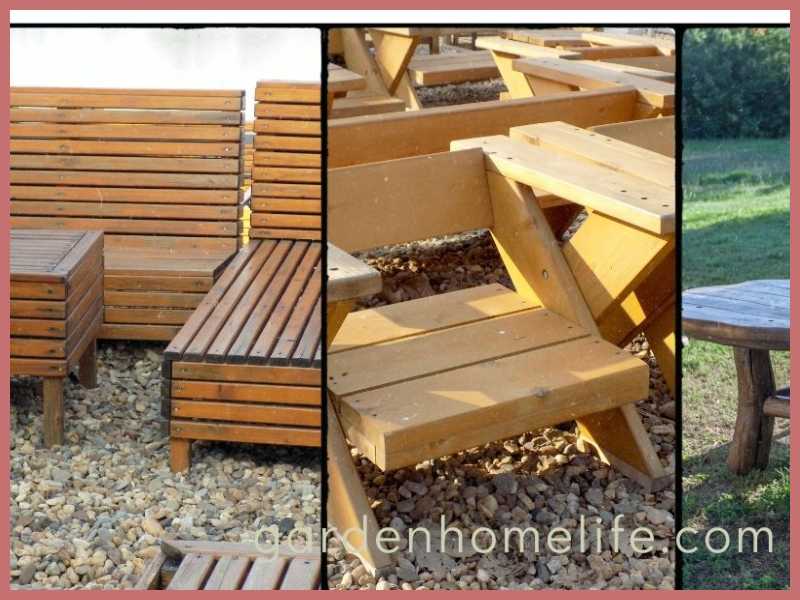 1. Wooden Garden Furniture
If you are a fan of wood furniture then you can get the best outdoor furniture made from robust hardwood like oak or teak and acacia furniture. It is essential to do the treatment to increase the life and preserve the wood. Getting FSC-certified wood furniture is an ideal choice too. 
The major benefit of having wood furniture is wood will stay cool even in high temperatures and you can just cover them up in winters but would need to spend some time doing paint or spray coatings to prevent against the weather.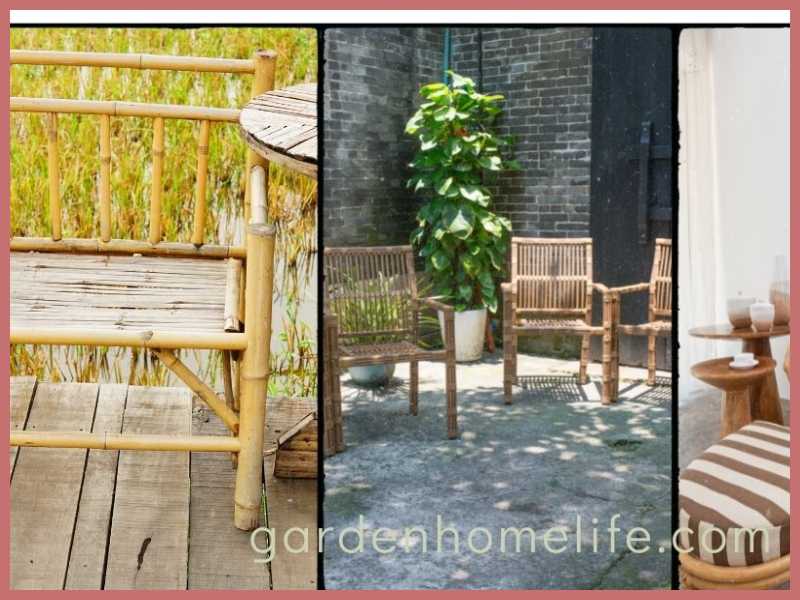 2. Bamboo Garden Furniture
Bamboo is less sturdy in comparison to wood garden furniture but it is lightweight and more affordable. If you like to invest in eco-friendly furniture then bamboo is a good option especially if you are looking for compact size furniture for you and your partner.
3. Metallic Garden Furniture
Aluminum and wrought iron are the most durable garden furniture. You can also opt for steel furniture but make sure it is galvanized or powder coated to prevent rust. Metal garden furniture is most durable and easy to maintain but it could get very hot in summer very quickly.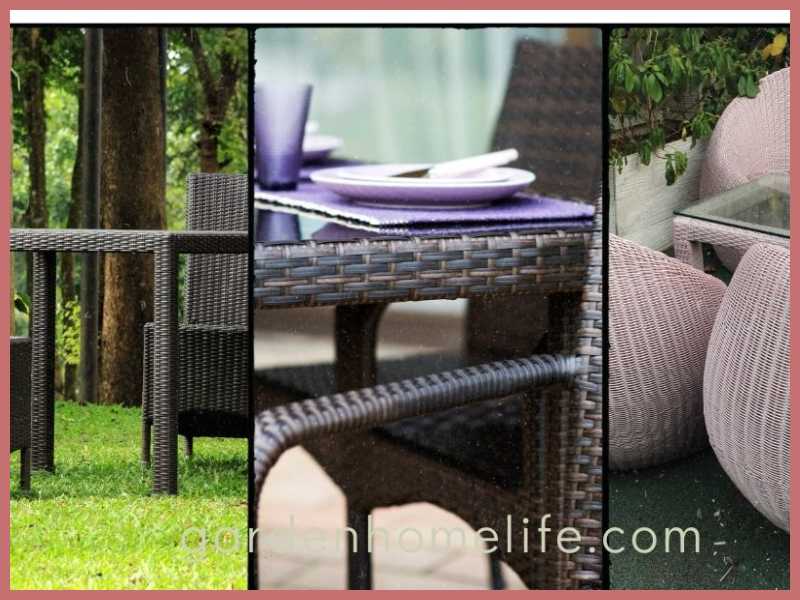 4. Polyurethane "Rattan" Garden Furniture
Synthetic polymer furniture is cheap, stylish, and lightweight. It is also a durable option but not as sustainable as wood or metal. Also, check out the recycled plastic furniture for more affordable options and also make sure the furniture you are buying is recyclable itself.
Types Of Garden Furniture You Can Style Your Garden With
1. Garden Table Set
Check out the furniture village Ravello 6 seater garden table set for outdoor dining. It is made from ceramic, powder-coated aluminum, synthetic material, and foam. It is a contemporary design garden table set which you leave outside all year round except for cushions. It is a highly durable, sturdy, and spacious outdoor dining set with comfortable chairs. It is high-end garden furniture but worth spending money on.
Or have a look at this stylish acacia wood garden table set for 6 people from Cox Cox. It has a laid-back luxury dining look with bleached-out whitewash for natural vibes. It is a true statement of vintage meets modern design. It won't poke a hole in your pocket as well.
2. Garden Cushion And Sofa Set
Looking for a garden cushion and sofa set? Check out this beauty from the HOMEBASE spirit garden corner sofa set in grey. It is ideal for lounging, having an intimate conversation, or a garden tea party. It is made from FSC-certified teak and aluminum. You can just cover it and leave it outside all year round.
here is another pick for garden cushion and sofa set from VONHAUS RATTAN Sofa and table set. It is affordable, lightweight, and made from synthetic PE "rattan". The cocoon shape of the seat lets you forget all your tensions and be snug with nature. It is a contemporary woven garden cushion and sofa set which you can style as you like.
3. Patio Furniture
Patio furniture can never go out of style. Choose it for your balcony outdoor furniture or regular garden furniture. Have a look at this stylish yet comfortable Rope cube 8 seater patio set from Argos. It is lightweight and can fit in small to large spaces without any hassle
4. Garden Swimming Pool Frame
If you are looking for a garden swimming pool frame for your family fun days or just a children's swimming pool frameset. You can get a variety of garden swimming pool frames in different sizes, materials, and designs online from Best Way Store.
5. Garden Fire Pits
After a delightful summer alfresco lunch doesn't let the party end. Enjoy your evenings and night drinks with this contemporary and modern black fire pit from Made Josper. It is a low metal fire pit that will allow you to continue your gatherings at night outside.
6. Garden BBQ Set
Are you a fan of summer BBQ parties then you should check out this authentic and classic charcoal barbecue grill with a side shelf from Armada Deals. It is compact, convenient, practical, and safe. You can also opt for a garden brick BBQ set if you have a large garden you just need to contact your local manufacturers.
7. Hanging Egg Chairs
No matter what type of garden you have, egg chairs or hanging chairs are a must-have. They are comfortable, stylish, affordable, lightweight, easy to maintain, and durable. Check out this Studio deluxe hanging egg chair for a quiet and relaxed evening.
8. Garden Sun Lounge Set 
If you are a sun-worshipper then invest in a good sun lounger set or hammocks. We all know there is no better place to find affordable garden furniture than IKEA. Have a look at the great and affordable sun lounge collection from IKEA.
9. Garden Bistro Set
Looking for small dining and intimate bistro set check out this yellow beauty from the Forest & Co. It is made from powder-coated steel and will match perfectly with your nude or grey walls.
10. All Weather Garden Furniture
Sure summertime is lovely to have outdoor dining and gatherings but there is no such restriction. Invest in all-weather garden furniture that you can enjoy all year round like this Argos 4-seater metal patio set ideal for fine dining, lounging, and tea parties.