Amidst the verdant tapestry of nature's embrace, there exists a hidden realm within our gardens—a haven of tranquility and comfort, beckoning us to unwind and escape from the bustle of everyday life.  In the bustling world outside, our gardens offer respite and solace, but within the confines of well-designed sheds and cabins lies an extra layer of blissful escape. In this guide, we explore the enchanting possibilities of creating cozy retreats, nestled amidst blossoming blooms and whispering leaves, to rejuvenate our souls and reconnect with nature.
"Garden Escape" celebrates the synergy of functionality and aesthetics, where sheds and cabins become more than just storage solutions; they become sanctuaries for relaxation, creativity, and contemplation. With thoughtful design and innovative ideas, these structures transform into intimate spaces that mirror our desires for peaceful moments and unhurried reflection.
From charming potting sheds that exude rustic charm to contemporary cabins that embrace modern comforts, our guide embraces a diverse range of designs, catering to various tastes and preferences. Whether you seek a serene reading nook, an artist's studio, or simply a private retreat to meditate, these cozy escapes are as versatile as they are delightful.
As you venture into the realm of "Garden Escape," we explore how the strategic use of light, space, and furnishings can elevate the ambiance of these sanctuaries. Adorned with personal touches and elements inspired by nature, each retreat becomes a reflection of our individuality and seamless integration with the surrounding landscape.
We have some wonderful garden shed ideas that can turn that boring and empty space into a relaxing and playful spot for you and your family. Most importantly you can build your garden cabin into your home office, hobby center, garden garage, or garden summerhouses.
Sure, you will use the garden shed and garden cabins for their intended purposes but there is no harm in making the most out of the extra space you have in your garden in some attractive exterior of your house.
Today, you can either buy or design your garden shed and repurposed them for more than just a storage space. One of the best parts is you can build them in just 1 or 2 weeks and they are quite affordable. There are plenty of garden shed designs and styles for you to choose from and get inspired.
Types Of Garden Shed And Cabins
Garden sheds and cabins are the most forgettable place in your garden. We use them nicely in the beginning but as time passes they simply become the dump yard of plant pots and garden tools.
We put so much effort and time into making our garden a style statement but that one place has the power to ruin your every effort. Therefore, it is time to make the most boring place into a fun and rejuvenating shelter.
Before you go ahead and choose a design for your garden, it is important to know that there is more than one material that you can use to execute your garden shed ideas.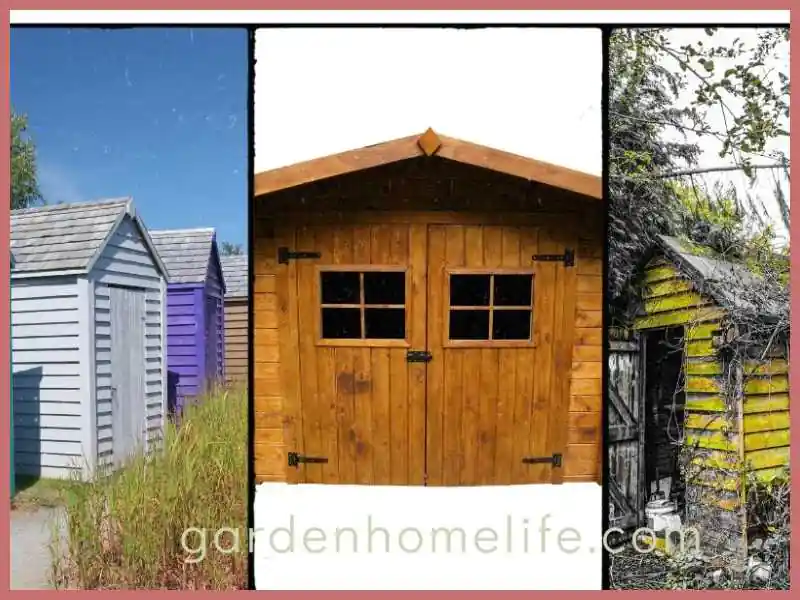 Wooden Garden Sheds
Wooden garden sheds are the more popular choice in the UK. They are reliable and closer to mother nature. Economical wood sheds are generally made from Pine and Spruce but if you want to invest in some high-end garden sheds and cabins then you can opt for Larch, Douglas Fir, and Cedar Wood.
You can also choose the cladding of your garden cabin yourself. You could have the expensive tongue and groove form, Waterproof shiplap cladding, or one of the most common and convenient overlap cladding.
Metal and Plastic Garden Sheds
Metal garden sheds are a new and modern garden storage idea that is practical, durable, and affordable but they have one big disadvantage: they heat up very quickly. However, if you only intend them to use for storage purposes or a place to spend windy summer nights then they are ideal and look very attractive.
On the other hand, plastic garden sheds are as light, cheap, and sturdy as they can get because they are made from repurposed plastic and synthetic materials. The only issue is they need a solid anchoring to the ground or they might blow away with a storm.
What Is The Best Place To Position Your Garden Sheds And Cabins?
Your garden shed and cabin will be carrying your and your family's weight along with furniture and the material it's made from. Therefore, a garden shed must be positioned on a flat surface made from concrete or paving.
If that is not possible then you cannot just simply build or put them on grass or muddy surfaces, even the lightweight plastic shed, you will need a strong and sturdy anchoring to the ground for the base.
There is some metal shed that comes with built-in flooring which you can fill with concrete to create a permanent floor and base. You might also want to consider the pathway and positioning of the door.
You don't want your repeated trampling or dragging of garden tools and furniture to destroy the front of your garden shed. Try to position your garden where the ramp is or make a ramp for easy in-and-out without destroying the front porch of your garden cabin.
BEST GARDEN SHED IDEAS
Now, let's talk about some spot-on garden shed ideas that can add OOMPH to your garden aesthetics while fulfilling their intended purposes.
1. Garden Cabins
The Posh shed company will make your garden shed ideas into reality with hundreds of garden shed ideas that you can buy or customize as per your liking. There are garden sheds that you can turn into posh sheds if you are willing to spend some money.
If you want to turn your garden shed into a party shed for hosting kitty parties, garden tea, evening dinners, birthday party spot, or BBQ place for regular use then you cannot get many posh ideas for your garden shed anywhere else.
They offer 4 build options, 2 of which are fully insulated. They offer 5 sizes for a garden shed from small to large gatherings with 3 roof finish options. Their garden shed design is a prime example of contemporary and classic elegance.
Check out their range of garden sheds:
BESPOKE Sheds and many more
2. Garden Summerhouses
If you are looking for garden summerhouse ideas for spending some fun time with your family then you should check out the garden summer house range from Sheds.co.uk. they offer in-budget garden summer houses that can make your garden more appealing.
Sheds.co.uk offer 3 ranges for garden summerhouse ideas which are contemporary, traditional, and Corner summerhouses. Garden summer houses are more than just garden sheds for storage purposes. You can style and design them as you like and in very little time they will be your new favorite outdoor spot.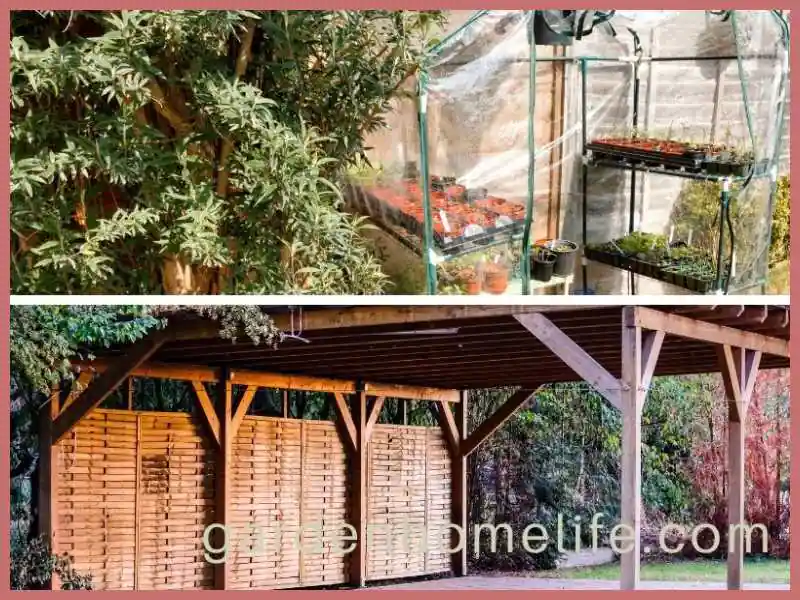 3. Garden Storage Ideas
If you are only looking for garden storage ideas to store your garden tools and furniture but with elegance and without hampering the view of your garden. Then you must check out some metal and wooden sheds from Argos. They are convenient, spacious, durable, and affordable.
4. Garden Greenhouses
If you are looking for a separate place to grow your gardening passion and grow some rare herbs, vegetables, and fruit. Then you can use that empty place in your backyard or simply turn your garden shed into a garden greenhouse.
Then you must visit Wayfair for their distinguished and creative garden greenhouse ideas.
5. Garden Carports And Garden Garages
Still unsure of that empty place in your garden and want to use them regularly then you can just convert them into garden carports and garden garages.
Garden carports are open places with wooden, metal, or synthetic sheds to park your cars but you cannot store anything there. Garden carports are generally made on a concrete base with a brick road for easy in and out.
Garden garages can be generally closed and a small area to store the bikes, and toy cars of your kids to play outside. You can also store your garden tools and equipment. Based on the size and positioning of your garden garage depends on whether you can park your car there or not.
We hope you like our list of best garden shed ideas to make your garden more appealing and attractive that reflect your lifestyle. Then what are you waiting for? Let's get creative and make your garden shed the eye candy of your personality.