In the soothing world of gardening, where creativity meets nature's splendor, lies a gardener's most treasured companions—the must-have tools that enable us to dig, plant, and prune with precision and grace.  As we step into the garden, armed with our gardening essentials, we embark on a journey of nurturing life and tending to the earth's bountiful gifts. In this guide, we explore a  selection of must-have garden tools, each crafted to fulfill a specific role in the gardening process, empowering us to bring our outdoor spaces to life.
From the act of digging the first furrows for new plantings to the delicate art of pruning, these essential tools become an extension of the gardener's hand, embodying our passion and dedication to cultivating beauty in every corner of our landscapes.  In "Dig, Plant, and Prune – Must-Have Garden Tools," we shine a light on the diversity of these indispensable companions. Whether it's the trusty spade for breaking ground or the gentle pruners for shaping and rejuvenating our plants, each tool becomes an ally in our quest to create and maintain flourishing gardens.
For those embarking on their gardening journey, this guide offers invaluable insights into selecting the right tools to kickstart their green dreams. Equally, seasoned gardeners will find inspiration to upgrade and expand their toolkit, ensuring they have every implement needed to tend to their beloved green spaces with finesse.
Beyond their practical utility, these garden tools become an essential part of the gardener's connection to the natural world. As we dig in the soil, plant seeds, and trim away spent growth, we nurture not only our plants but also our bond with the land and the beauty it bestows upon us.
It is easy to overboard while shopping for your garden tools. Whether you are a beginner or experienced, if you are into gardening, you must have a few essential garden tools that can go a long way.
There is always something new, better, shinier, and bigger when it comes to gardening implements but it can result in overcrowding your storage space and low level of maintenance and scarring your gardening budget.
Many think all the gardening tools are equivalent and companies are just charging for their brand name but that is not the case when you shop for must-have garden tools for the long run. 
Buying the cheapest might save you money at the beginning or allow you to buy more tools but in the end, you will end up spending a lot more when you find out the cheap gardening tools that you bought online are not up for labor.
Our advice is to start with basic, strong, and efficient tools like rakes and hoes, tree loppers, pruning saw, digging spade, garden hose, and many other essential garden tools that are required for planting, digging, weeding, harvesting, pruning, maintenance, and wood cutting tools.
Here is the list of 12 must-have garden tools:
Our 12 Must-Have Garden Tools: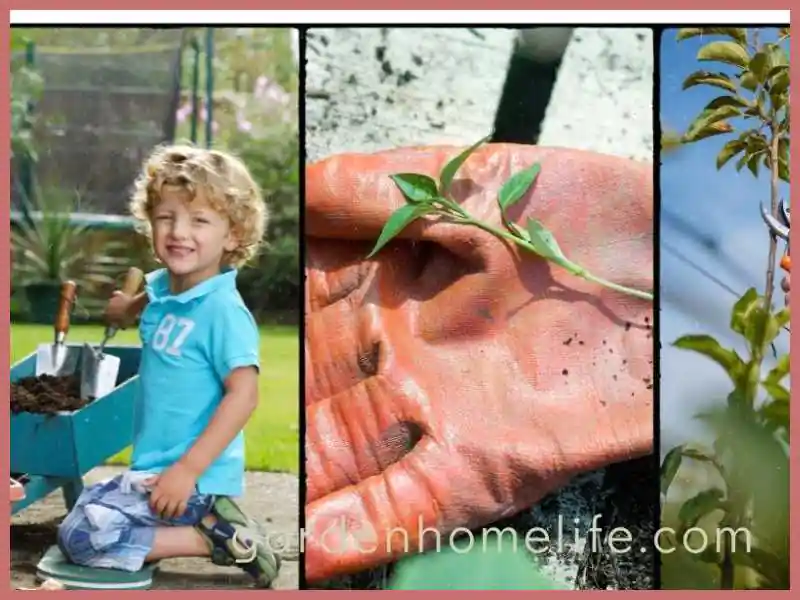 1. Garden Gloves
Gardening can be beautiful and messy at the same time. Invest in a good pair of gloves that can stay with you for a long time. They will not just protect your hands from getting dirty but they will also act as a barrier against thorns, splinters, and pesticides.
Choose the perfect fit gloves with longer cuffs. Make sure they are waterproof and breathable at the same time. Be careful about the fabric, don't buy gloves that are too bulky. Invest in durable and tear-resistant gloves like NIWAKI.
2. Kneelers
You will most often find yourself on your knees while plowing, sowing, or getting those stubborn weeds out. Many experienced gardeners like to invest in gardening clothes but still, that doesn't protect your knees from getting hurt in the open and rough field.
Buy a kneeler pillow or metal kneeler platform with a seat. Choose whatever fits best in your budget. Metal kneelers are quite expensive and would require huge storage space but pillow kneelers are made from durable fabric with soft foam filled inside and are easy to store. Check out the Sicilian Lemon Kneeler Pillow.
3. Pruning saw
A Pruning saw can come in handy when your favorite tree or bushes start spreading like a virus and start leaning on your neighbor's wall or roof. A pruning saw is a must-have garden tool to cut down those extra branches and beautify your garden
Pruning saws come in different sizes so choose the one that fulfills your needs. Find your best pruning saw at UK TOOL CENTRE.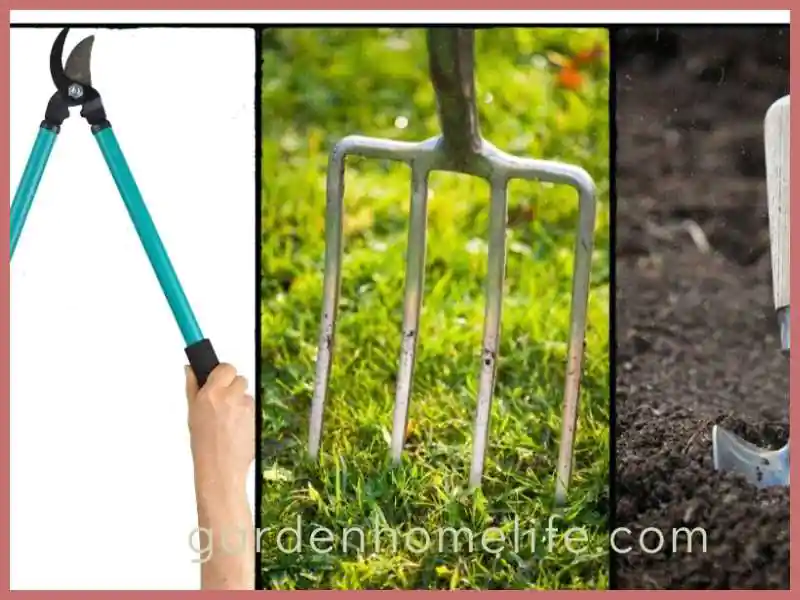 4. Loppers
Tree loppers are also a type of cutting tool like pruners, but they are used for cutting or trimming the branches that are hard to reach and require more strength than cutting small branches.
Tree Loppers have long handles that can reach faraway places and have the ability to trim down the toughest and thickest branches. There are different types of tree loppers available in the market like Anvil and Bypass loppers. Opt for the lightweight loppers whose handle is made from aluminum or carbon-composite materials as they would be easy to handle.
5. Fork
Garden fork is one of the most efficient garden tools and your garden toolkit is incomplete without it. A fork can help to turn up the soil and compost. You can find different types of garden forks online such as small-handled and long-handled.
Forks with a slight curve, straight tines, or square tines are among the popular forks. Slight curve forks can help scoop and turn. Straight tine forks are for digging in compacted, rocky, or clay soil. Square tines are sore, stronger, and won't bend when hit by rocks.
6. Hand Trowel
A hand trowel is your go-to garden tool for transplanting bedding plants, poking, or taking out weeds. Choose the hand trowel that fits perfectly in your hand and feels like an extension of your arm. Hand trowels get rusted easily so go for stainless steel hand trowel from Spear and Jackson that is durable and effective.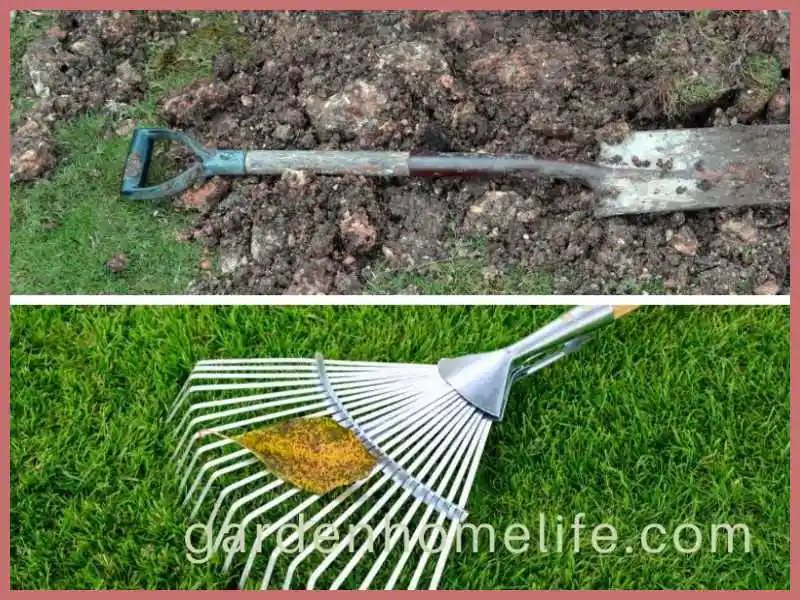 7. Digging Spade
A digging spade is an expensive gardening tool but you cannot go without them. They are essential for digging holes for plants, edging, sodding, and moving the soil around. Choose the digging spade with Ash hardwood handles for durability and absorbing shock, vibration, and pressure. Check out the collection of digging spades here.
8. Rake
A leaf rake is a must-have garden tool for you to deal with leaves and debris falling. You can get a huge variety of garden rakes in different styles and materials but it is better to start with a standard rake with an adjustable handle that can reach small and far away places easily.
9. Hoe
Garden hoe is another essential garden tool but what type of hoe you will need depends on the type of garden you have. If you have a veggie garden you will require a wide and sturdy hut if you have a perennial garden then a delicate and thinner hoe is the one to look for. 
Whatever garden hoe you buy, make sure that the handle is long and comfortable, and the blade is sharp and fine and made from stainless steel, aluminum, or carbon materials.
10. Garden Hose or watering can
Watering your garden is one of the important aspects of your job. Thus, don't be hasty about watering garden tools. Both gardening hose and water can are essential tools. While buying a gardening hose make sure that it is suitable according to the length of your garden and try to buy one with an adjustable nozzle to keep the pressure in check.
Watering can come in both plastic and metal material. The plastic one is cheap and easy to carry but the metal watering can is more durable but is prone to rust and might be difficult to carry so choose accordingly. Check out the affordable and durable garden hose and watering can at Argos.
11. Wheelbarrow
If you have a big garden and you usually find yourself carrying heavy stuff from one place to another then you should invest in a wheelbarrow. It will fasten the whole process effectively without straining your back and knees.
You can opt for a traditional dual-handle, single-wheel style wheelbarrow, or one-handed, two-wheel models that are easier to balance. You will be able to find some good wheelbarrows at Argos.
12. Pruning knife and secateurs
Pruning knives and secateurs will help you to control the growth of your shrub and bushes. A pruning knife can come in handy to cut strings and wines or give shape to flower beds. On the other hand, secateurs will be more useful to cut the soft branches that are quite stubborn with the sharp and flat-edged blades.
You can add both as your go-to gardening tools for daily maintenance. Therefore, invest in beautiful and durable pruning knives like OPINEL No.8 and RHS Bypass Secateurs