The living room, also known as the Parlour Room, is the centre of the house and unquestionably the essential part. Before decorating the living room, people do a lot of brainstorming with family and friends because it's where we spend a lot of our time together with family and make many memorable memories.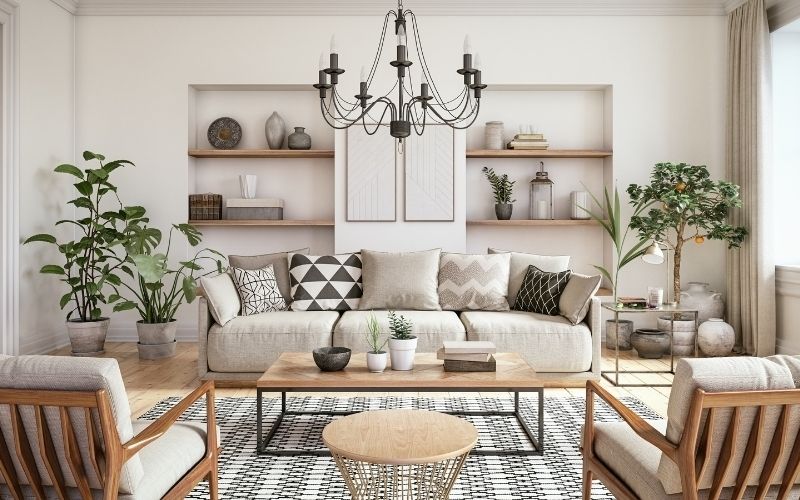 People spend a lot of their money decorating the living room because it's the place where we do our creative work, read books in the morning and most importantly, it's the place where we welcome our guests. The living room of any house gives out the first impression of the house and the people who live there, so making it a dream living room is worth the effort. 
Every house and family has their specific need for their living room based on the number of people and their age. So, before decorating the living room, people should keep all the aspects in mind. 
Steps of Decorating Living Room:  
Before decorating and redecorating the living room, there are some steps that we should follow; after all, it is going to be your happy place. 
Measure the Living Room 
Measuring the living room is very important and the first step. Measuring the living room gives you the basic ideas of things you can keep in the living room: decorative objects or your furniture. Having the correct measurement of the room's length, breadth, and height is the basis of decoration. 
Consult with Family 
The living room is not a personal space, and it's a place where the whole family spends their time together, so consulting with every family member is essential. They all have the right to make this place feel a bit of themselves. The use of the living room changes from family to family, like in a house with kids, a play area or gaming area is needed, whereas a place with elders' greenery is required. So, getting the opinion of each member of your family is essential. 
Drawing the Layout and Looking for Ideas 
Drawing the layout makes things natural, and the execution becomes easy. After having a general idea of what to do with the space, drawing a design on paper or any software makes things convenient and while doing so, come up with some kind of scheme. In this step, you need to decide the colour of your wall, the size of the furniture, the decorative you're going to use and mark them on your layout. You can also look for images of the living room that replicates your idea, or you can change yours with a better view. Looking for photos of the living room gives you a perspective of what you should be looking for.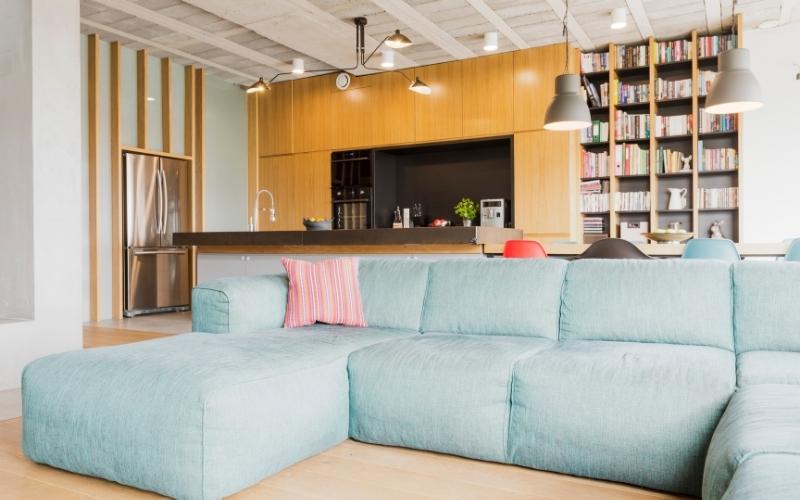 Shop for Furniture 
With a clear vision, go out and shop for living room furniture. They can be bought online or from the local shop, but make sure to keep your budget in mind during this shopping spree and shop wisely. Start with big furniture like a sofa or the centrepiece and buy them according to your need and not just for decoration purposes cause you're going to spend a lot of time on this furniture.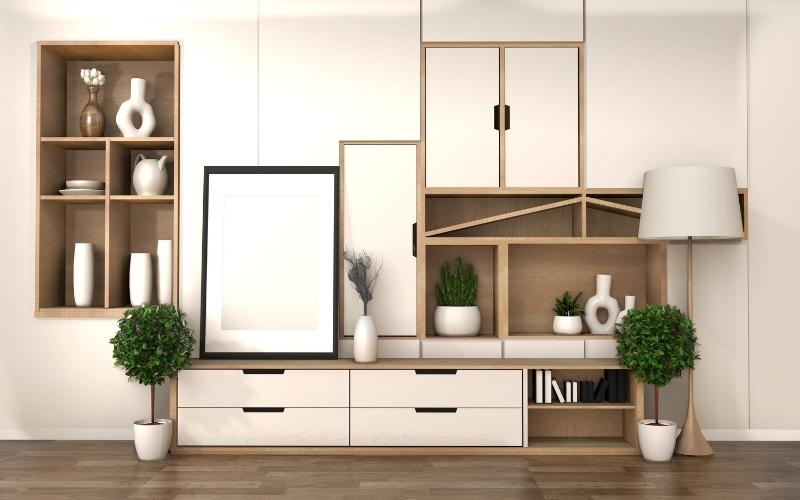 Purchase the Decor Items 
Decorating your living room is like giving it life. After selecting the more significant items like furniture, focus on small ones because small details matter. What kind of living room feel do you want- modern, classy, traditional, stylish, or warm and buy these items according to that aspect. Wall arts like canvas, mirror, and wall decor can make the wall look beautiful, or you can also hang photos of your family in the living room; it gives a feeling of love and warmth. Rugs are essentials; living room rugs have their requirement that they should be big enough to fit all the furniture, and you can never go wrong with plants. A little bit of greenery not only makes the living room beautiful but also is good for health.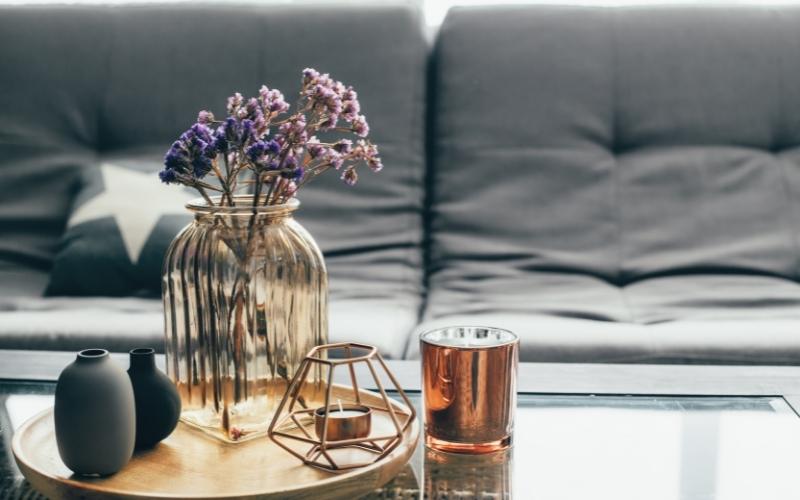 Adjust the Living Room  
Start adjusting the living room, keep the furniture in place as you have drawn in the layout. Make patterns on the wall and start decorating the room by installing the decorative objects you bought, and don't forget the lighting.  
Clean the Room 
Cleaning is the last step. While putting the furniture and painting the wall, you must have created a mess, now's the time to clean it up. Clean the room and remove any unwanted objects and dust. Your dream living room is ready after working so hard, now make beautiful moments in it.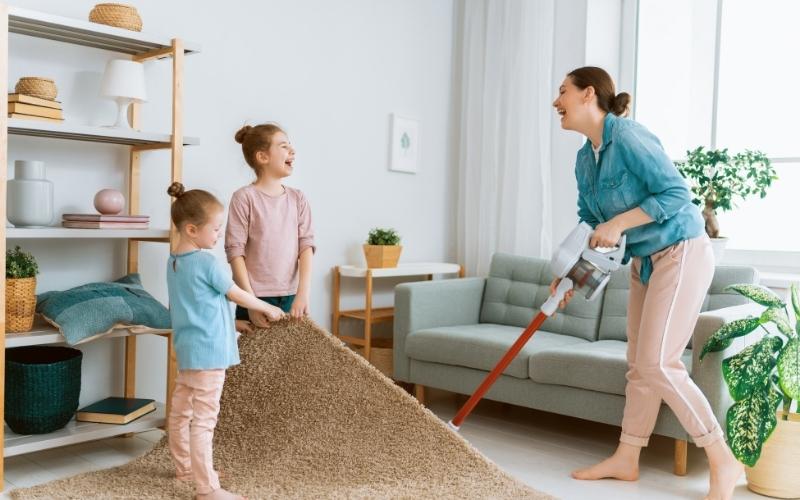 Living Room Decorating Ideas: 
Now that you know how to decorate your living room. Here are some ideas about the things you should buy and how to decorate its interior. 
Living Room Furnitures 
Living room furniture is difficult and important because they are not just for decoration but also to be used and thus should be as comfortable as beautiful or maybe even more. 
Add texture with woven furniture: 
Woven materials are not dull or old-fashioned anymore, and they have earned their place in our homes. The rattan woven texture gives a classic effect to the room and increases the level of sophistication by blending the country chic and modern minimalism.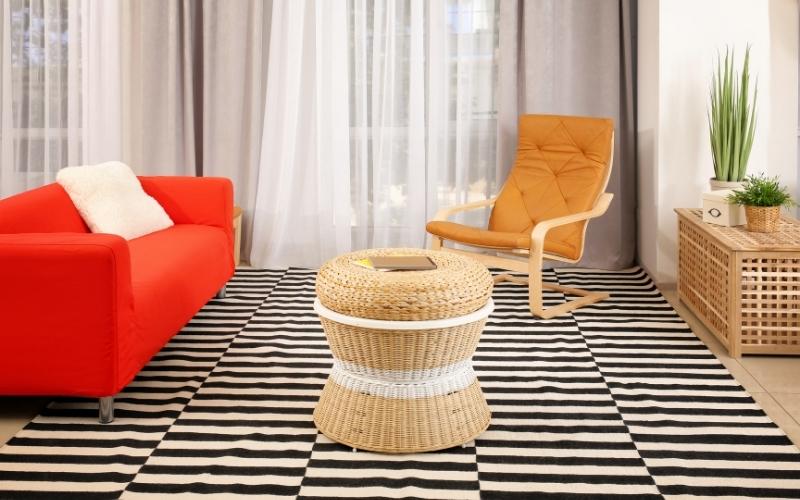 Add colourful furniture: 
Adding a colour scheme to the living room with colourful furniture is an excellent idea. Colour evokes creativity, and it's necessary to add colours in the living room because you're going to spend so much of your time there. Use colours like green, yellow, pink; they all have their way of changing the room's feel.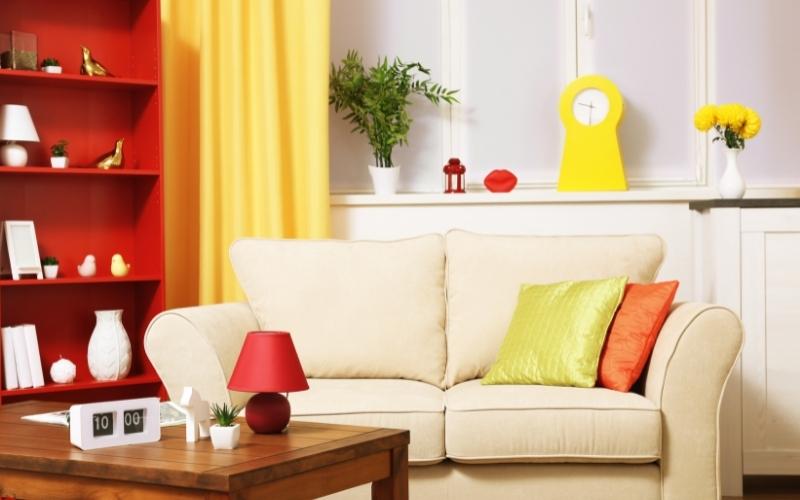 Keep the furniture in a circle: 
Curve and round objects give a sense of security and smoothness. Put your furniture in a circle or a turn to eliminate the edgy pattern and roughness from the room. 
Add a place to rest your leg: 
Find comfort for your legs with furniture while sitting on the chair of your living room that will enhance the layout of the space. Select furniture while keeping the proportion of room in mind, like in a narrow margin, buy a small armchair with a matching footstool. Arrange the chairs at an angle that gives a sense of depth to the room. Otherwise, if all chairs are facing the wall, it will end up creating a narrow alley.
Living Room Wallpaper 
Wallpapers are trendy in modern houses and apartments. They are beautiful and affordable, making them a must-have for the living walls. There are so many options in the market when it comes to living room wallpaper. 
Floral wallpaper: 
Floral is a trend that has been making a comeback in the wallpaper industry. It is a timeless design that never falls out of style, and it feels like you're living in a garden whenever you're looking at it.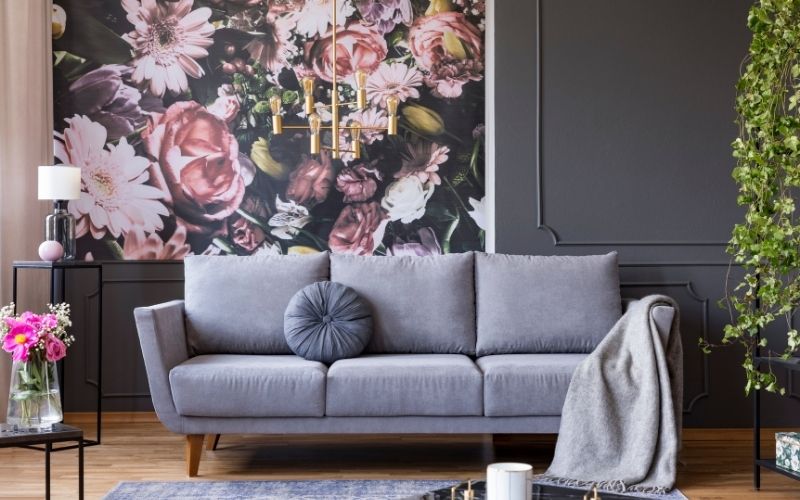 The following are some of the best live-room floral wallpaper designs to try out:
Flower Power Wallpaper: 
This wallpaper designed by Floral Artistry is based on vintage roses and will make your home feel like a garden.
Floral Heaven Wallpaper: 
This wallpaper designed by Floral Heaven is based on different types of flowers. It will give your room an airy feel while still providing you with something fresh to look at every day.
Strawberry Fields Wallpaper: 
A classic live-room floral backdrop, this wallpaper was designed by Sunshine Living.
Combine colours: 
Combine colours and don't be afraid; gone are the days of safe and boring colour combinations, now you can let your imagination make the decision. Combine any colour you want and be fearless. Combine blue and green, back and pink and wait for the result. 
Match them up: 
For a cohesive look, just match the wallpaper colour and pattern with your curtains. This is how your wallpaper design can be extended to windows and the whole room. If a single practice in the whole room is too much, just add the pattern to the fabric of cushions on the couch; this will extend the pattern a little bit more while making sure that the pattern is not too overwhelming.  
Living Room Lighting 
Lightings are a part of any room that can never be overlooked for reading or relaxing, and they also add style to the room.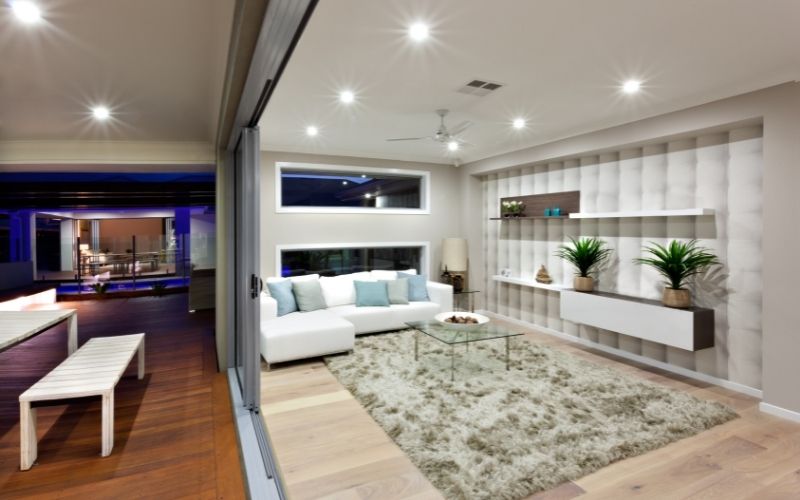 Create layers of light: 
Light layers are used to bounce illumination throughout the room and remove dark patches and shadows from the corner of the room. Use different kinds of light like chandeliers and sconces to give the layering effect and make the room more illumined. Add a floor lamp in the seating area so reading can be easy. 
Add fireplace: 
The fireplace adds a cosy feel to the living room. Fireplaces give out this romantic vibe that compels you to hang around them. In addition to the blazing hearth, candles can be put on the wall and the tables to give the room a rustic look. 
Skylight:  
Skylights are becoming more and more popular in the living rooms.
Skylights allow for a better view of the sky and to save energy, which is usually the first thing that people think about when they want to install a skylight. But there are other benefits of installing skylights in your living room as well.
Skylights bring light into spaces without opening up walls or doors, which creates a feeling of openness. The natural light also helps reduce eye fatigue since it's not too harsh or glaring. The best part? Skylights don't take up much space!
Living Room Side Table 
This is a living room side table with a drawer that is perfect for storing small items.
It is one of the most popular pieces of furniture in the market. It has a modern style, which makes it ideal for any contemporary living space. The shape of this furniture also makes it attractive to many people as it can be used in several ways. If you are looking for a stylish and functional piece of furniture, this is ideal for you!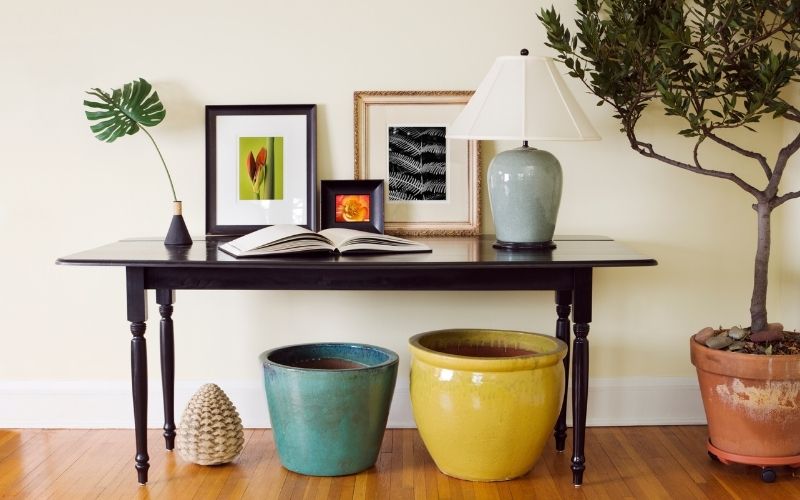 Modern coffee table:  
Modern coffee tables are no longer a functional item. They are now something that we use to enhance our living spaces and the aesthetic appeal of our homes.
In the modern era, people have begun to understand that furniture is not just utilitarian. It can also be a piece of art and an expression of your personality. And as people move into more expensive homes, they need to find ways to set these homes apart from others. One way is through adding interesting pieces of furniture that can be used as functional items and decorative pieces at the same time. Often, this means buying styles like Scandinavian or rustic pieces that can go with other pieces from your home decor collection.
Simple Side Table: 
Add a simple small side table in a corner and nook and add simple decor by keeping it minimal, like a small candle stand and small flower pot. 
Different kinds of the table: 
Suppose you don't want to compromise both beauty and storage by mixing your table. Get a sturdy, beautiful round table and decorate it with flowers and books and a centrepiece and for a side table, buy a compartmental table so that you get your storage and don't have to compromise anything.  
Living Room Rug 
Rugs have important value, so don't underestimate them. Just put a brand-new rug on the old carpet of a rented home, and viola, your floor is good to add new.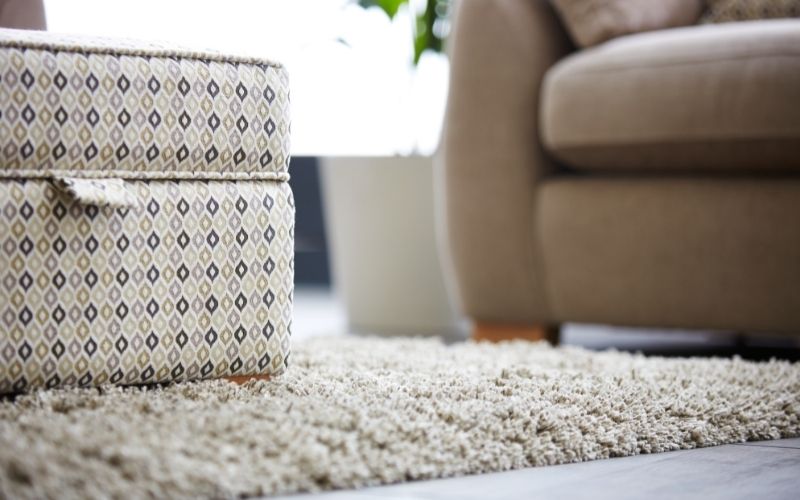 Layer up the rugs: 
There is no need to settle for only one rug. Depending on the size of your living room, you can add as many rugs as you want and different kinds of them too. Rugs are the easy way to bring texture, style, and uniqueness without much effort. 
Use the rug to work with the layout: 
When choosing the area rug, it's important to know how it is going to work with the layout of your furniture and the whole living room. You can always base the whole layout on your rug, as it is a great starting point in your decoration. Use a large enough rug so that your furniture is at the centre and not at the edges, and give your room some space for light and breathing. 
Choose the colour scheme with the help of rugs: 
Now, the time to be bold and fearless in your decoration. Let your rugs decide the colour scheme of the whole room. Make it match the walls or contrast to the furniture, experiment cause, after all; it's your living room. 
Decorating your living room can be quite intimidating because, let's be honest, we all want our living room to look the best. It is the place that reflects the whole personality of the owner so try to add elements that reflect you; it's also going to make you feel more homely and warm. If you ever feel that these things are going out of hand and your plans are not working as you thought them to, you can always go to some professional and tell them your needs. They'll always know what to do with your space and can make your living room your dream room.