The curtains that you can find in your home are designed both for aesthetic and functional purposes. They are also used for keeping the interior of your home protected from the sun and the rain.
Cushions are soft and fluffy bag-like structures. These are mainly stuffed with wool, cotton, feathers, chemical fibres, non-woven fabrics and sometimes even fragments of paper. These bags are mainly used as pillows on the chairs to give a soft feel while sitting. These are also widely used as decorative items. For ornamental purposes, cushions are available in various designs, patterns and colours. Decorative cushions are most commonly made of silky, smooth, cover. Cushions can also be seen made of velvet, silk, etc. Cushions are also similar to carpets as they serve the purpose of softening the hard surface. Some English dialects also refer to cushions as throw pillows. Cushions are considered one of the oldest used articles of furniture. Those were usually largely covered with leather.
How to choose the right Cushion?
Most of the common people assume that all cushion inserts are similar. Certainly not. Cushions are made of a wide range of materials. Choosing the right cushion as well as the right cushion cover is highly essential. Cushion inserts greatly affect the interior look and well as the seating. Cotton and linen are the most widely used materials in cushion manufacture. These are natural fibres and ideal choices for people with sensitive skin. These can be perfectly used in the summer seasons. But these are not suitable for outdoor cushions if the exposure to the sun is high. The colours may fade away gradually. Even placing the cushion near the windows with high exposure to sunlight affects the quality of the fibre.
Silk and wool:
Silk and Wool are of decorative value. Silk is generally regarded as a luxurious fabric and also expensive. Special care is required for silk maintenance. Wool is soft as well as strong but also expensive. Silk and Wool are generally versatile and touchable. They want expert cleaning.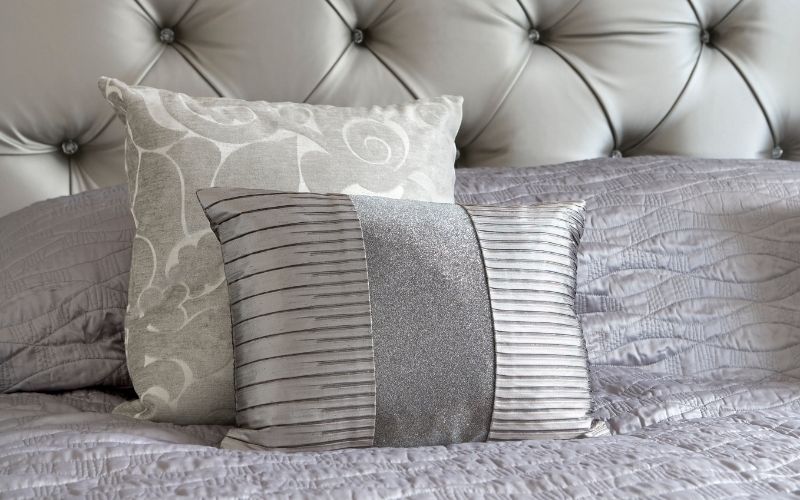 Leather:
Leather is not often preferred as cushion material. Leather is extremely hard wearing and so capable of tough exposure. Leather is certainly difficult to clean. Certain synthetic fibres like vinyl can imitate leather and hence can be utilized as a substitute but vinyl does not have the ageing qualities and durability. This also requires specialist cleaning.
Polyester and nylon:
These are generally used synthetic materials for cushions. These synthetic fibres are a combination of various other fibres and can imitate silk or wool. Synthetic materials are considered durable, washable and exact choice for the rooms that have a high usage such as kitchen or dining room. Always don't go for a shining appearance. Go for finer materials along with adorning properties for the regions where their beauty won't be ruined earlier.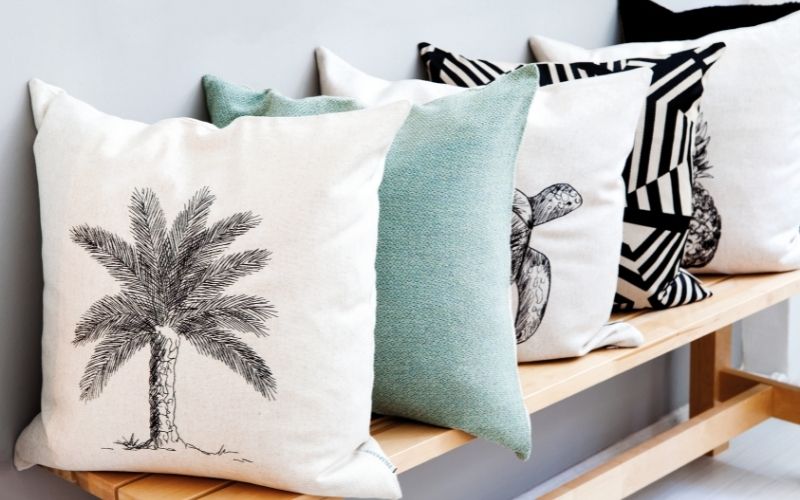 Patio and outdoor furniture:
Patio furniture is the source of transforming the outdoor space into an entertainment spot. The patio is meant for relaxation. Always prefer cushions for comfort. Since it also impacts the outdoor décor, prefer stylish ones as well. The outdoor furniture complements the patio look and is functional. When you are about to buy furniture for the outdoors, primarily consider the width, height and depth. Cushions made of both natural and synthesized fabrics are available for patio furniture. Be cautious while choosing outdoor cushions. They might have high exposure to sunlight, rainfall, and other extreme climatic conditions. These facto highly affect the colour and quality of the fabrics making them dull and withering. Using durable and withstanding covers for the cushions is essential. Cotton is tough and cheap but has no resistance to water and colour also fades sooner. Treatment with a special coating can prevent this. Acrylic materials painted with solution-based dye can last long as well as being fast but it is a little expensive. Polyester is a synthetic fibre. It has high resistance to stains.
So polyester can be used perfectly for outdoor usage. Apart from the last longing performance polyester is also considered as a less soft material. Another best alternative for outdoor cushions is reticulated foam. It has a low density and is filled with many pores.
They can even be considered like nets. The material closely resembles the bubbles. The appearance of this material is closely like foam formed by soap bubbles. It has high durability as well as quick-drying property.
This material is slightly expensive. It has high resistance to microbial infections and moisture. Polyester fiberfill but also known as polyfill is a non-renewable and petroleum-based material. It is also composed of toxic chemicals. It was usually made of polyester and recycled materials. It has a cotton ball-like structure and a highly soft texture. Another reliable and Indestructible component is the dacron. But dacron cannot be flattened like other materials. Dacron seats are often considered one of the most comfortable and the steadiest. These qualities make dacron an optimum choice for outdoor cushions. The structure is also very tightened. Hence the appearance is most suitable for modern homes. While choosing a dacron, always consider the width and thickness of the material. The thickness affects the drying quality of the material. Keep that in mind too.
Since the outdoor cushions reflect the appearance, choose the cushions with the most appealing colours. In case when you have a pool outside always go for bold colours like pink, bright blue, along with catchy patterns. When you have a garden and at the same time if you don't have any idea in choosing colours, take inspiration from the colours in the garden. For instance, selecting colour matching with the colours of flowers would be more attractive. This adds additional beauty and a decorative look to the outdoors. Patios with an atmosphere of having dinners or gatherings are to be placed with gentle cushions with floral patterns or designs.
Designs and patterns:
Floral designs would be ideal and attractive for wooden chairs with white colour cushions. To hide and prevent dirt, spilling and stains, use grey, black or brown cushions. These colours can prevent the external factors affecting the appearance. You can also prefer the tile colour while choosing outdoor cushions.
If additional relaxation is preferred, then choose a back cushion along with throw pillows. Sach seat cushions offer a stylish and modern look to the atmosphere. Backrest cushions also prevent slipping while leaning against the seat. Backrest cushions are specially designed to prevent outdoor furniture because outdoor chairs are often shifted. In such circumstances always choose two seat cushions. A protective cover that can be fitted to the furniture to prevent the cushion material is called a slipcover. Slipcovers are easily removable for cleaning seasonally.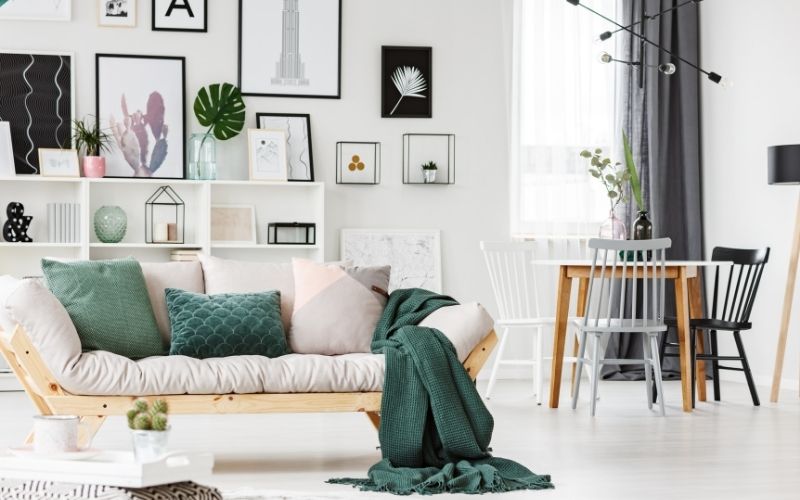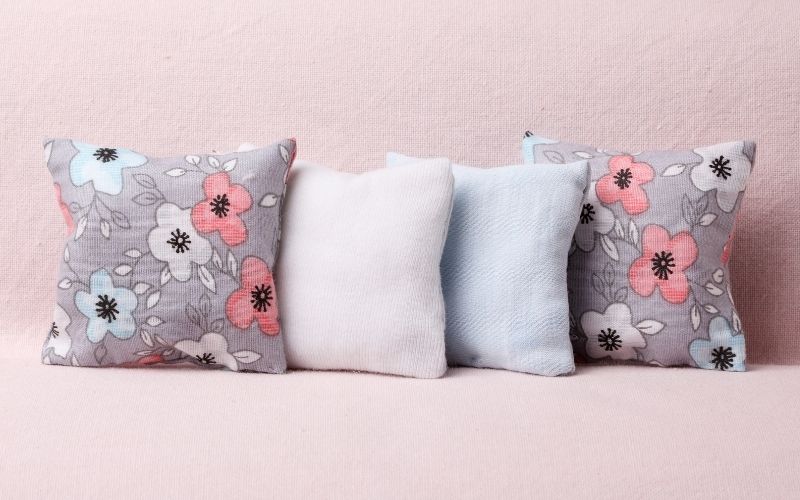 Preventive covers:
Slipcovers can also be used to prevent the appearance of older questions which may affect the decor. Patio furniture cushions are usually made with moisture resistance. So the durability is not certainly assured. Although the slipcover hides the look of the furnishings, you must replace the very old furniture. Not only are the cushions made with synthetic and natural fibres but also the internal foam becomes thin eventually.
Characteristics
The major aspects of outdoor cushions are durability, water resistance, quick-drying property, the most appealing and stylish look. Don't use slipcovers just to hide the old furniture with a weary and dreadful appearance. For comfort, internal stuffing plays a Vital role. Backrest cushions are often considered more comfortable. They also affect the style of the furniture.
While choosing cushions for indoor furniture, recognise the colour scheme you want. You can always choose the colours which can be used to highlight the other decorative items, paintings or artworks. Prefer colours that add complement to the interior design and decoration. Select the colours and patterns which have their coordination with the accessories present in that particular atmosphere. The cushions and the throw pillows which effectively match with the interior accessories provide an attractive and stylish look.
While considering the presence of the number of cushions, think of the abundant amount and luxurious appearance. It is believed that even several cushions provide a traditional look. An odd number of cushions tend to be more modern and aesthetic. For creative visualisation of the atmosphere choose patterns with different colours and designs. The patterns should not be of the same size.
That would be quite dull. Add distinct varieties of fabrics with the best elegant textures to reveal a grand and decorative look. For comfort and softness, prefer fluffy throw pillows. Matching the textures of the material with the Furnishing creates an appealing appearance.
Try to blend your decor with the texture of the material such as velvet, georgette, silk, etc. This creates a harmonious and co-ordinating look.
Focus on the arrangement of the cushions which are displayed. Keep on changing the arrangement patterns according to your want and comfort. For instance, in the case of large sofas, try to arrange pillows on both the corners and one or two in the middle portion. Both indoor and outdoor questions always require high quality and durable materials.