The beginning of winter means the arrival of Christmas. We make plans the whole year for what we want to do on Christmas and how we are going to decorate our home to top the last year's decoration ideas.
If you are also looking for table decor and outdoor decor ideas for Christmas 2021, then you are at the right place. The 2021 Christmas is a Post-Pandemic Christmas and we have a lot to be grateful and celebrate for. Christmas is the time to welcome our family and friends and make memories of a lifetime and thus decorating your home for festivals is a must. Also, the festival season is all about sharing meals with our loved ones and diving into holiday treats.
This is why we have brought you the best outdoor decor ideas for Christmas to welcome your guest and get on the fun-filled festive ride. Christmas is all about food, friends, and family therefore we have also brought the best table decor ideas for your festive theme. Here are a few table decor ideas and outdoor decor ideas for Christmas that will make your holidays fun and exciting.
Best Table Decor Ideas For Christmas
It is time to spend with your family and loved ones and what is the better way to show your love than a lavish festive dinner. We have selected some evergreen trends and their modern version of table decor ideas for Christmas. We hope these hearty and warm table decor ideas for Christmas will help you cherish the memories of the 2021 Christmas dinner forever.
Here are the few things you can do to organize a festive dinner filled with laughter and fun with the following table decor ideas for Christmas:
1. Pick a Theme Of Traditional Color Palette
Pick 2-3 traditional colors for your Christmas dinner and decorate with the bling of silver and gold ornaments. Color palette themes are exciting, warm, and welcoming. Red and white with Silver touch is one of the most popular traditional color themes.
You can create a snow-white theme by opting for the simple yet elegant white and red pattern tablecloth and napkins, bright white small lights, or opting for white candles, crackers wrapped in crepe red fabric tied with silk red and white ribbons. Decorate the table with white and red centerpieces with small roses and shrubs. The traditional colors will make your Christmas more traditional with spicy and sweet colored and traditional food.
2. Splash Of Greenery Would Give a Warm Effect
Christmas is another occasion to connect with your family and nature. It is time to bring the outside in. Christmas is all about joy and nothing is better than celebrating the joy of nature. Make beautiful arrangements from your garden vines and decorate them with the earthy aroma of candles.
You can hang the natural green wreath above the table or use pine cones and a string of flowers spread across your dinner table. Place small potted plants as centerpieces and create multiple layers of foliage. The natural and earthy aroma will create an atmosphere of outdoor dinner on summer nights.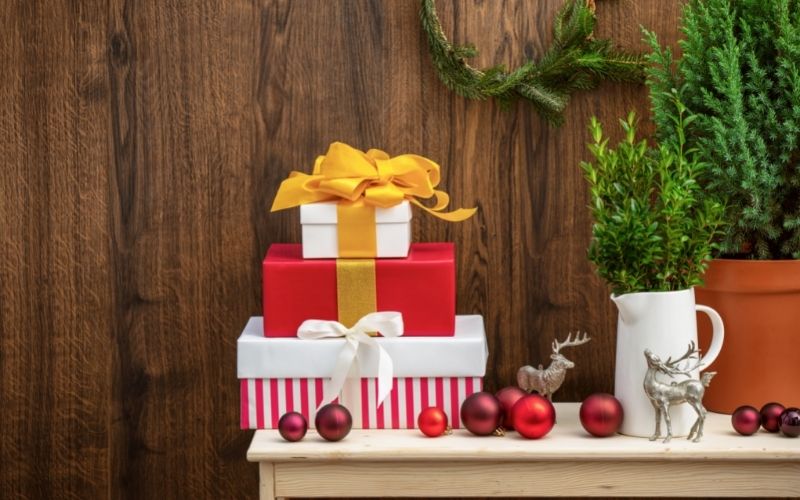 3. Create a Drink Counter
A dedicated drink counter is a must for this Christmas, no matter if you are having a large celebration or small gathering. Create a home bar section with a variety of classics and cocktails with a handy mixologist set. Take out all your fancy glass beakers and glasses with a platter of olives, lemons, mint, and berries. It will become the focal point of dinner and place it right next to your Christmas tree.
4. Give a Personal Touch With Homemade Crackers
Nothing is much more special than personalized and handmade decorations to make everyone feel welcome and dive into the Christmas joy. Little things in table decor ideas for Christmas will create lifelong memories.
Add a personal touch to your table decoration by making homemade crackers from cardboard roll and place a treat wrapped up in pretty paper of fabric tied with silk ribbons. For more personal effect you can also write a compliment and joke on your festive stationery notes. You will not only save your money and reduce the wastage but receive appreciation from your family and friends.
5. Opt For Victorian Theme Christmas Dinner
Surrender yourself to the vintage and traditional themes of Christmas. If you are looking for a classy formal dinner with traditional roots then "Victorian theme" is the one to look for. Dedicate a separate counter for sweets and spicy Victorian-style treats with mulled wine. Set the neutral color dining room with a cream and white color pattern and decorate with golden and brown ornaments and chestnuts and apricots.
Make the garlands from pecan nuts and oversized baubles to decorate the tree and walls. Place a small size tree with brown foliage decorated with brown nuts or copper ornaments. Opt for vintage-style tableware and cutlery with white and brown napkins and tablecloth to complete the Victorian theme.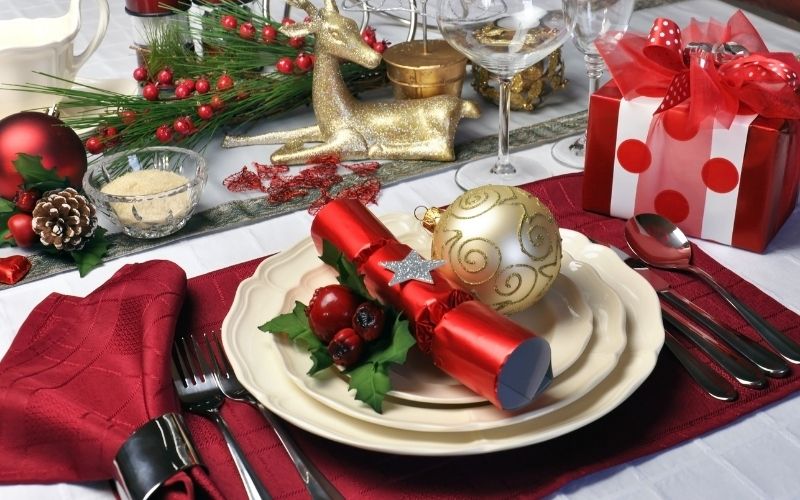 6. Give a Shot At North Style Decoration
Christmas is a winter festival so what is the best way to celebrate Christmas dinner? Let the snowy winter inspire you and get creative with fancy glassware. Fill glass lanterns with fake snow and mini trees, decorate your table with silver winterberries strings. Opt for silvery and snowy wreaths hanging over the table. Frosted glasses and grey candlesticks will help you to complete the look.
Place silver or grey table cloths and napkins with snowflake patterns. Decorate the chairs with a large greyish-silver ribbon with a big bow. Decorate your Christmas tree with flaky white and silver ornaments and fake snow.
7. Add Warmth With Country Style Decoration
If you are the one who likes to spend Christmas with their big family and want everyone to have fun while maintaining the theme and honouring their Christmas traditions then a Country-style Christmas celebration is the ideal choice for you. It allows you to stick with the traditional colors of Red and Green and allows you to experiment with table decorating ideas.
You can use family heritage Christmas decorations and play with nature. You can add handmade personal additions to the theme like embroidered napkins in Red and green while using the warm color and flowery pattern dinner set. You can mismatch your candle holders, add contrasting centrepieces, make garlands for Christmas decoration using nuts, herbs, and berries. Country-style Christmas is perfect for big gatherings especially with kids as it is full of colors, warmth, and laughter.
8. Bring Aromas And Lighting On The Table
Another enchanting way for your table decor is using natural aromas and handmade dotted candles floating in a bowl. Bring the different shades of foliage to your dinner table. Use sprigs of rosemary, snowberries, and larch cones to create centrepieces.
Make beautiful arrangements and decorate them in your living room of different foliage. You can also create handmade fir mini trees for your Christmas table decor. Use candles or a warm shade of Christmas lights to complete the look.
Best Outdoor Decor Ideas For Christmas
Outdoor decor for Christmas helps to create a festive environment and lift the holiday spirits. The key to creating a cheerful and festive atmosphere in your neighbourhood is through the outdoor Christmas decoration.
Here are a few outdoor decor ideas for Christmas that will not just brighten up your place but will make your guests feel welcome.
1. Wrap Up Your Front Door
Wrapping up your door with a huge ribbon in the shape of the bow is a great way of making your guests feel welcome and spreading the joy of the festival. This style of outdoor Christmas decor is trending for the last few years.
You can use two shiny pieces and lightweight fabrics of different lengths and tie them securely at the end with a staple gun while making sure that it doesn't interrupt its functions. It is one of the statements outside decor that will leave an impact on your guests and neighbours.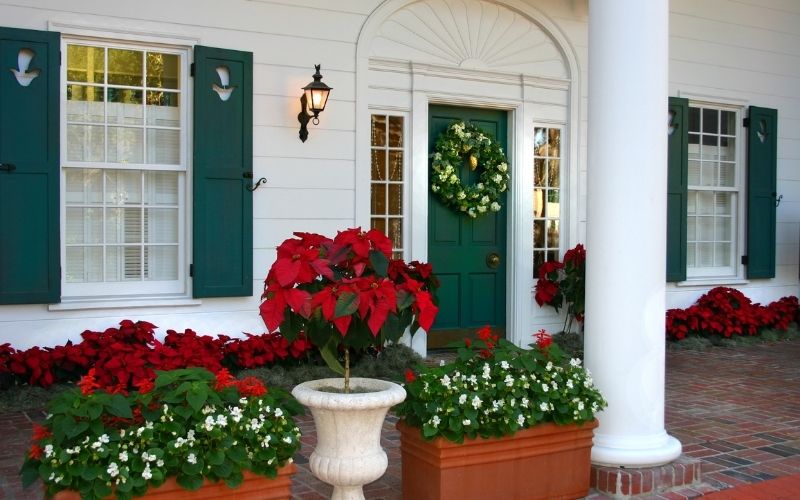 2. Hang a Cozy Wreath On Your Door
Add foliage to your front door, choose a hearty wreath filled with warm colors and several Christmas decorations. Oversized wreaths help to create an ambiance. You can also add empty gift boxes wrapped in beautiful fabrics and decorative paper to set a warm theme. Complement your oversized wreath with Christmas hanging lights to make an impact.
3. Dress Up Your Garden Trees
Dressing up your garden trees with twinkle lights and Christmas ornaments is another great outside decor idea for Christmas. You can also use net lights for the hedges. Net lights are a bit more expensive but are more convenient and precise in instalment and help to light the pathways at your desired setting. However, make sure when you are dressing up your garden trees use the same pattern at a similar height.
4. Plant a Huge Christmas Tree In Your Front Porch
Who says Christmas trees are ideal for Indoor decorations? Place a large Christmas tree on your front porch or you can opt for small fir trees at your front doors with snowberries and red berries decorated with golden ornaments to create a more festive look.
5. Use Garden Inspired Decorations For Your Front Door
Natural decorations make you feel more connected to nature and automatically fill everyone's heart with warmth and joy. If you are looking for budget and environment-friendly outside decor ideas then use the colors of nature to decorate the outside of your home while making feel welcome to your guests. You can make garlands and matching front door decorations from evergreen trees of your garden, berries, seasonal flowers, apples, and magnolia leaves. You can collect pine cones in a glass jar of different heights and decorate them with some twinkle lights to get a glow in the dark.
6. Add Lanterns And Light Orb All Over Your Garden
For your garden decoration, you can hang bright paper and glass lanterns filled with glitter or light orbs. light up your garden pathway with lights placed in wooden baskets or jars. You can wrap Christmas orb lights along with grape vines or climbers in your garden. Decorative animal-shaped lights are also in trend. You can also pronounce "Merry Christmas or Joy " letters decorated with small lights.