How to find perfect curtains for your home?
Curtains are made of different fabrics and are used as window coverings. They include textures, materials, colors, and patterns. They add a decorating aspect to the house and are also used for practical purposes. A place needs windows for ventilation, and a window needs curtains for managing and protecting your privacy and avoiding stalkers. It also adds a security factor to your home. They also provide light regulation to your house. You cannot control the weather, but you can control the natural light and wind that enters your space through curtains. They also work as a miracle for people who are allergic to dust by preventing the entrance of wind containing dust particles inside your home and keeping it clean. Also, using the right curtain improves your home's appearance and makes it an expensive look. They also help maintain a specific temperature by blocking the heat generated outside the house.
Every other person staying in a busy city or town is fed up with the constant noise pollution. And keeping your house locked up isn't possible. But drawing your curtains is. They prove a certain level of restriction from noise pollution. And to top it all, they are that addition to your house that requires the lowest amount of maintenance. You cannot want a curtain anymore after reading this! So let's help you decide which home curtain ideas are suitable for your needs.
Tips for choosing curtains for your house-
Living Room- 
Living Room is that space where you spend most of the time of your life. It's that space where you watch TV, spend time with your family, and place your Christmas tree. It is literally a memory box for the entire family. It is also the first room that any person sees when they enter your place. So it is vital to choose the right curtain because it decides the aesthetic you want your house to extrude. Home Curtain Ideas for your room include several things. You can choose a pastel shade in addition to gold accents and glam decorations to give a royal look to your place. Another people-pleasing living room aesthetic is the coastal beach vibe. To add the authentic, airy, beach feel, choose. Sheer, light-colored patterns that are easy on the eye. Curtains add visual weight to your eye, so try and use light fabric with a cohesive color pattern. 
You also need to ensure your style matches your furniture. You cannot add a bold print or color with a classic and calm interior design. You would need a neutral color or print to go with it. If your room is full of color and patterns, you need a simple curtain to neutralize it. But if it is plain with simple paint, you can add a bold design to add life.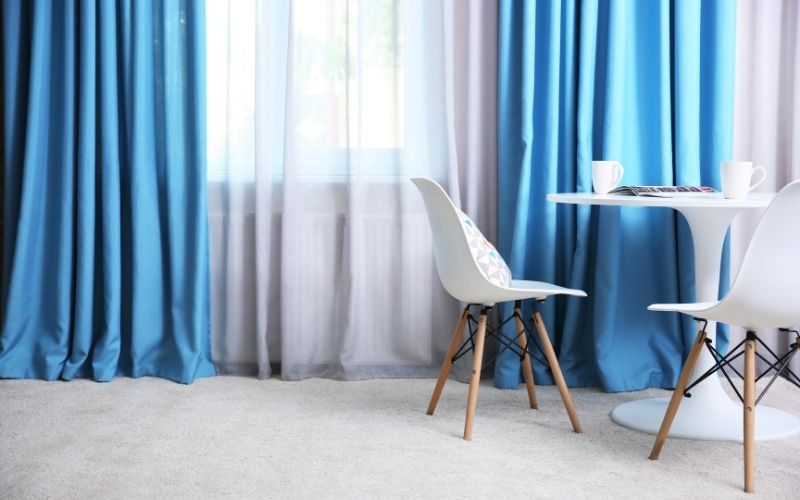 Bed-Room- 
Nobody likes waking up by the glaring sunlight on your face. So it would be best if you had a proper functional curtain that makes sure that isn't the case. People usually go for block-out curtains as they are Thicker and more effective at blocking out light, but they are not very pleasing. People also go for pairing patterns for the bedroom. They choose similarly patterned curtains with the furniture or bedspread to bring the room together. Velvet is a good option for your bedroom as they prevent the noise and light entirely and add a polished and dramatic look to the room. Burlap curtains also provide the same functions, but they're not as elegant as velvet. But on the contrary, they're easy to clean than velvet because velvet can be washed only by hiring a professional.
Curtain Ideas for Bedroom include a more significant aspect than just design. The colors and patterns also have an impact on your mood and circadian rhythm. Cool-toned colors and patterns are the go-to options for the bedroom. Puddle-length curtains are considered best for the bedrooms. You have to consider the general feel of your room to decide on a perfect curtain.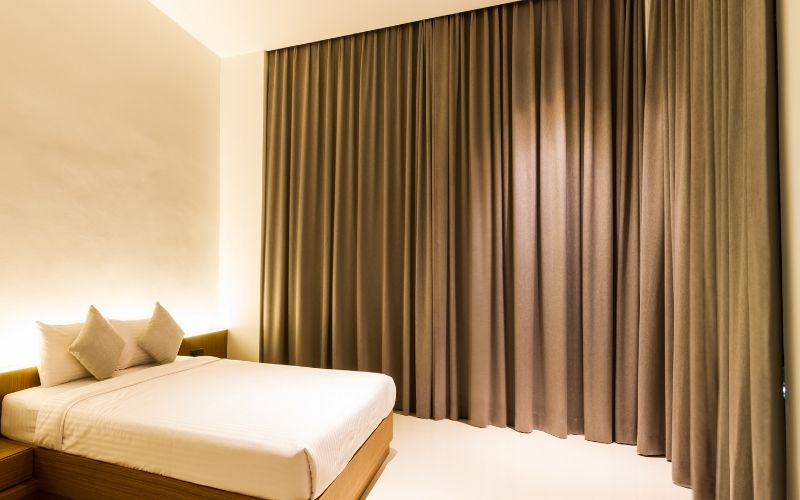 Study- 
A study room needs to be quiet and peaceful to work with maximum concentration. It would be best to have a curtain that blocks interrupting sounds and bolsters brainpower. It would be best to have stylish patterns and colors yet not disturbing enough to distract you from your work zone. You need to work with a simple color and pattern palette. Bohemian patterns and design add aesthetics and peace at the same time. Sheer curtains are considered significant for study as they soften the light entering the room not to cause extra strain on your eyes. Another thing suitable for your study room is motorized curtains so that you don't have to get up every time you want to shift your window.
Suppose you have a bay window that works excellently. We have a perfect set of home curtain ideas for a bay window. The best option for a bay window is combining sheer and blackout curtains. Other additions to your bay windows can be Soft Silk Panels, Drapery panels, Valances, and Flat Roman Shades. People also add Plantation shutters and roller blinds in their study room.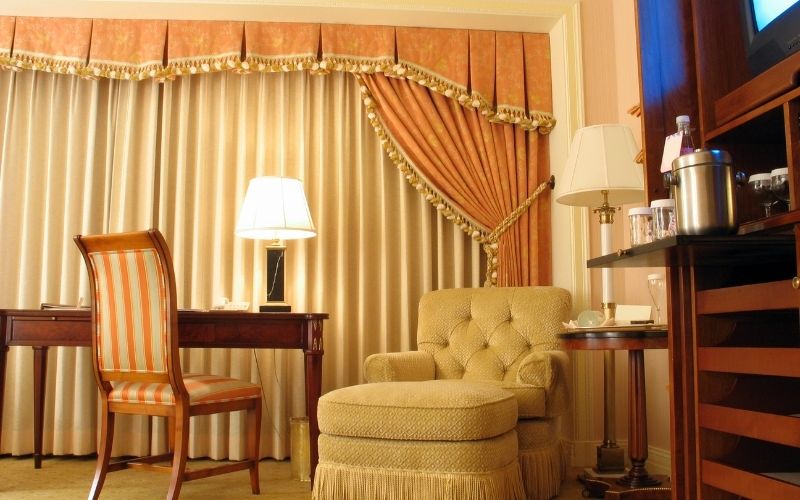 Kitchen- 
Home Curtain Ideas for Kitchen are the most versatile. Crisp white curtains are considered best as they blend with every time of the kitchen and add a modern flair to it. Clean lines and deeper tones also provide a very modern look—gingham curtain match made in heaven for a country kitchen. You can also add the boldest patterned roman shades for the perfect addition. A bamboo shade in a color light gives a very beachy video to your kitchen. Also, if you have a proper tech-savvy industrial kitchen, add gray roman shades to show the mixture of hard and soft. You can also add character to your kitchen by installing striped shades. Additionally, a plain black shade curtain is perfect for an urban and luxurious kitchen. You can also add patterned curtains in two layers to add drama to your otherwise basic kitchen.
The kitchen is one space where the fabrics and furniture need to be cleaned almost every day and sometimes even three times a day depending on their use. So nylon or cotton, which is easy to wash and maintain, works perfectly. Try and choose a fabric that can be machine-washed at home. Lace curtains allow light to pass quickly and can be used to brighten up your kitchen. Some people also add curtains to kitchen doors. We also have curtain door ideas for you. To add a curtain to any door, you must ensure it matches the one you add in your windows to give it a cohesive video.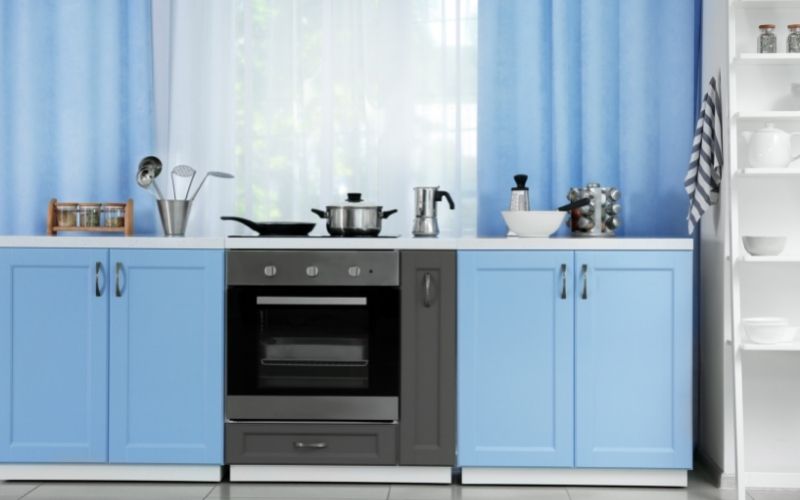 Hallway- 
Hallway windows are usually midsized windows placed in the center of the wall. Hallway curtains show a transition from the living room to the other rooms of your space. Cotton and linen fabric curtains are the best fabric for midsized windows. Adding white or neutral tones curtain provides a modern aura to your room. It shows a straightforward transition as they work well with every color. Curtains with floral motifs can add a specific character to your otherwise dull hallway. They will ensure that a person stops and admire a space that is otherwise passed unnoticed. Curtains with small patterns also work well for the hallway. You can also add ethnic patterns to include a touch of magic and fantasy. A Provencal style curtain can give a fresh look to your hallway.
Conclusion
Curtains! They don't seem very important, but they play a significant part in the decor of your house. Apart from the design and style, you also have other important things to consider while installing your curtain. You have to choose between a Panel Pair or a Single panel. Additionally, you have a long list of attachment styles to choose from, including- Goblet Style, Tie, Box Pleat, Pinch Rod Pocket, Tab Top, Grommet, or a Ripple Fold. Lastly, you have to decide the appropriate curtain length. Typically, readymade curtains are available in Sill length, Apron length, Floor-length, and Puddle length. But you also have the option to get your curtain length customized. Whether you have a Visual, Tactile, or Amplitude texture, they all add something different to your space.
So this was our home curtain ideas trivia that has every critical aspect of the curtain from start to end. You need perfect curtains to go with it for perfectly coordinated and harmonious decor. People understand how difficult choosing a curtain can be, so you have an option for home consultation to lead you to your perfect curtain match. You can also get online snag suggestions from interior designers for your curtain selection. Lastly, you can go traditional and choose your curtain from a home decor store. You can also get free installations and guides about cleaning and maintaining your curtains. We hope this article helps in providing another item for your home perfectly. Need a dramatic effect for your otherwise plain home? Add dramatic curtains.