Are you bored of looking at the simple walls of your bedroom or constantly crave to revamp your bedroom to showcase your personality and style?
The bedroom is a personal space in one's life. People start and end their day from this place. After a long and tiring day, you require a personalised place to make you feel relaxed and regenerate yourself for another day. Decorating your bedroom may look like a humongous task that would occupy a lot of your time if you don't know where to begin and how to proceed.
But, do not worry, here is everything sorted for you! On this page, there are plenty of décor ideas. From bedroom décor items to bedroom décor for girls, all is covered up.
Decoration Ideas for Bedroom
First of all, visualise. Visualize how you want your bedroom to feel. If you want it to feel like a warm and cosy place, a recliner or cosy chair on the window side with a lamp and rugs would do the trick.
1. In-door Plants:
Nothing can add life to your bedroom than plants. Plants have a magical effect on your life. They bring peace and beauty to your place with much ease. Do not worry whether you have a balcony or not. Some plants can be kept inside for some time.
Small potted plants which do not require much space, will do the trick. You can hang some mall potted plants from the ceiling or place them beside the door. Indoor plants such as Snake plants are very easy to parent and come with the added advantage of purifying the air.
But, make sure you take due care of these plants otherwise they will die out. You can choose small ones such as Calathea Beauty Star, Marble Queen Pothos or Chinese Evergreen. Big ones occupy space and need much care. If you are up to the challenge and have a spacious room then go for it.

2. Colour Scheming:
If you have those tedious white coloured walls, then you have the opportunity to change the overall look of your bedroom. With bedroom walls, you can start giving them a fresh coat of paint. You can also go for wallpapers. Here, it is a bright and vibrant colour scheming idea. You can apply a sober colour coat to your walls and go on by adding a bed frame or abstract art with bright colours such as red or orange. Same colour combinations can be used for bedding, table and almirah.
If you wish for a calm and soothing ambience, you can choose the classic combination of blue and white. You can create a vintage look by giving your bed full white touch and curtains and bedframe a hue of indigo.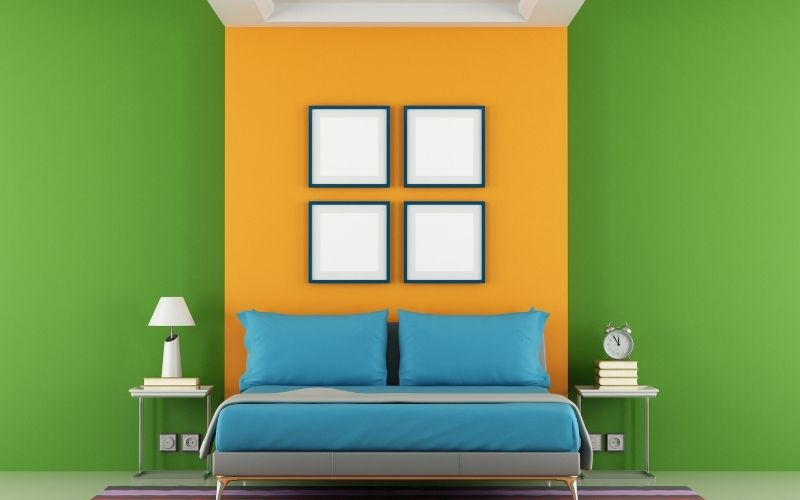 3. Lighting:
Along with decorating items and furniture, lighting also plays an important role. They affect the overall look of the bedroom as well as have a direct impact on your mood. If you are going to spend the most important hours of your day in this space then lighting becomes altogether more important.
Consider matching lighting to the shades of your bedding. You can add a bedside lamp with warmer lighting than the rest of your room.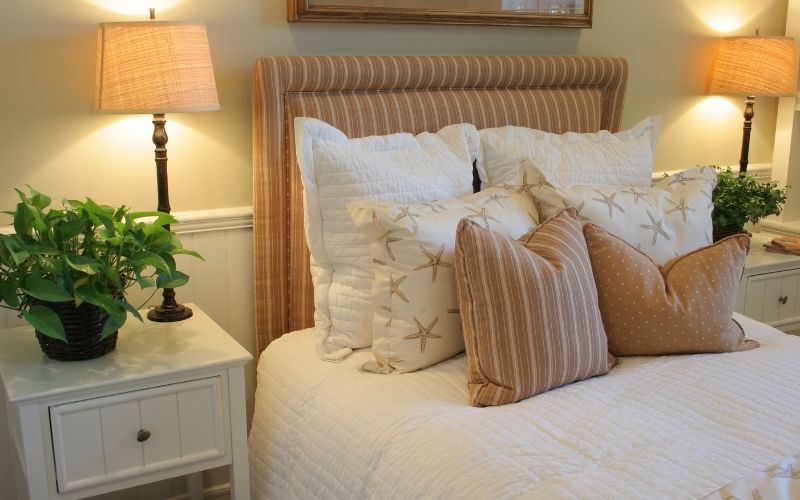 4. Window Treatment:
If are having a scenic beauty lying outside your window, then why conceal it with tainted glass and window panels? Taint the window glasses if you like dark spaces or want to keep people away from peeping inside your bedroom.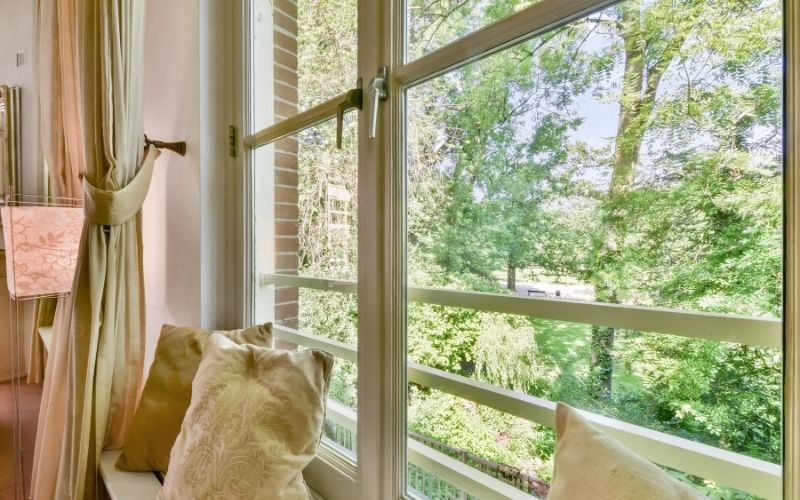 5. Headframes:
This is the most important design decision you have to make. Headframes are the centre of attraction of your bedroom. They are most important for the look of your bed. A white headboard with panels to store your favourite belongings will help you to personalise the headframe.
Try matching the headboard to the colour of the wall behind it. You can also decorate the whole piece of wall behind your bed with DIY art that can act as a headframe, to give a more personalised touch. You can be as colourful and creative while mixing and matching the4 headframe and the wall behind your bed, you can add patterns with intricate designs on the wall behind the bed frame while having a simple headframe.
6. Bookcase:
The dream of every bookworm is to own a personal library. While this can be a far-fetched dream and need time to be fulfilled, why not add a part of your dream to your bedroom decor? You can replace that traditional bedside table and lamp with a narrow built-in bookcase. The spine of your elegant hardcovers will bring out the beauty and personality in your bedroom.
You can always tug in a bookcase near the window side armchair and low table. This will create a cosy reading space. Imagine sitting there with a cup of hot coffee and raindrops on your window glass with your favourite book.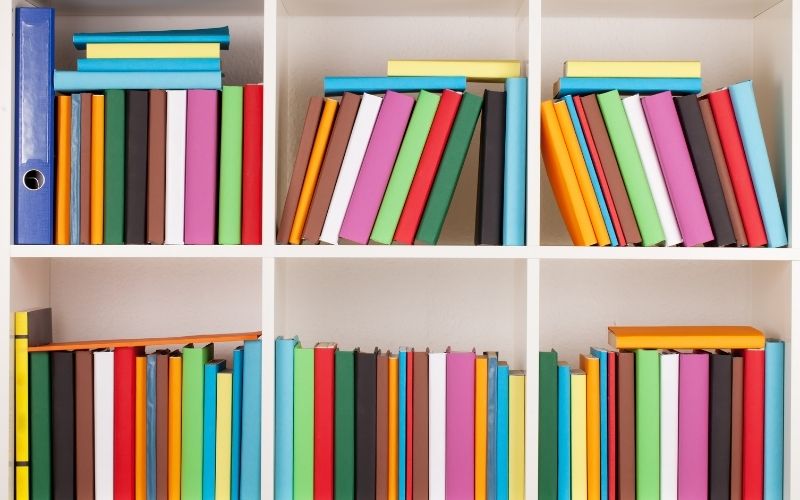 7. Feel more spacious:
Want your small bedroom to look more spacious? The right colour combinations will deceive a small bedroom to look spacious. Colour the walls in a crisp white with a small bedroom with white bedding. Add a touch of colours such as blue or woody brown to throw personality in the room.
8. Curtains and Carpets:
The mixing and matching with curtains and carpets will enhance the main décor of your bedroom. They should be placed to complement the colour and design of your walls and bed. You can add patterns to your curtains if you have simple walls and a headframe. You can also choose single coloured curtains to add simplicity to a bright and vibrant room.A patterned rug will give the bedroom a stylish as well as a cosy touch.
9. Textured Design:
What can be better than wood to bring a textured feel to your bedroom? You can add wood headframes. The wooden basket hanging in crones, photo frames made of wood, trays and wooden door will add texture to your simple white bedroom. If you want to carry on with this wood-textured idea, try adding light brown curtains and hand-woven rugs.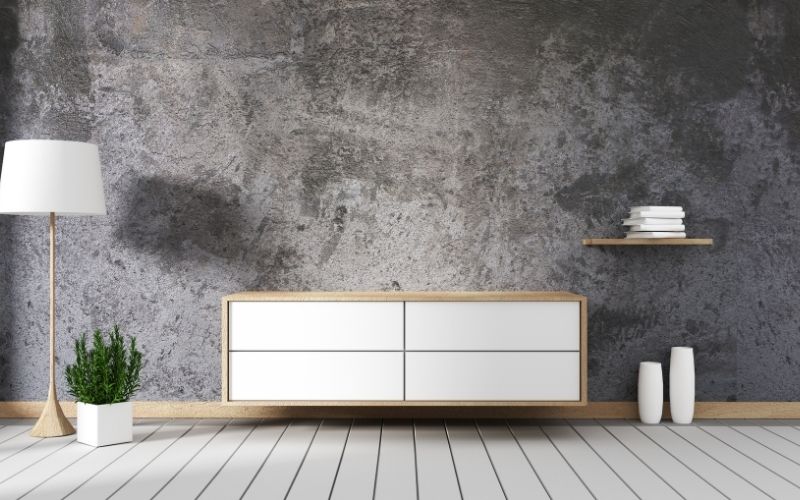 10. Arm Chairs:
Chairs are the requirements for any bedroom. You can turn this requirement into a fashionable décor item as well as a comfortable sitting area. Consider killing two birds with one stone. If you are going with the texture theme, try adding a wooden armchair covered in white or blue lining according to your room. Add a pillow with colours and patterns contrasting the chair.
You can place a huge sofa chair for added comfort in your bedroom. Add another small chair that can go inside your work table (if you are adding one).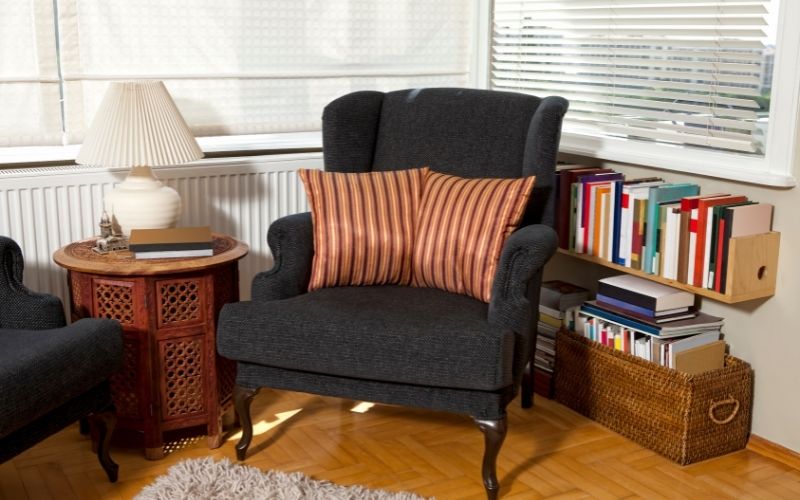 11. Floral Print:
Another great idea for bedroom decors for girls. You can have floral print wallpaper and bed covers to give an aesthetic look. A bedside wooden table would fit perfectly in this type of decoration.
12. Photo frames, flower vases, candles and Accessories.
Lastly, your bedroom should not feel empty. Few accessories could give it a personalised touch. You could always fill your bedroom with small accessories that act like cherry to the icing.
Scented candles can be placed on the bedside table, on top of bookshelves or on window stilts. A room should appeal to your olfactory senses as well. Candles will brighten up your evenings and give a romantic feel as well.
Bedroom décor is incomplete without memories. After all, a bedroom is your personal space. Time to fill it with photo frames having pictures of your joyful time with your loved ones. Wind shines on the window side and will add music to your decorations.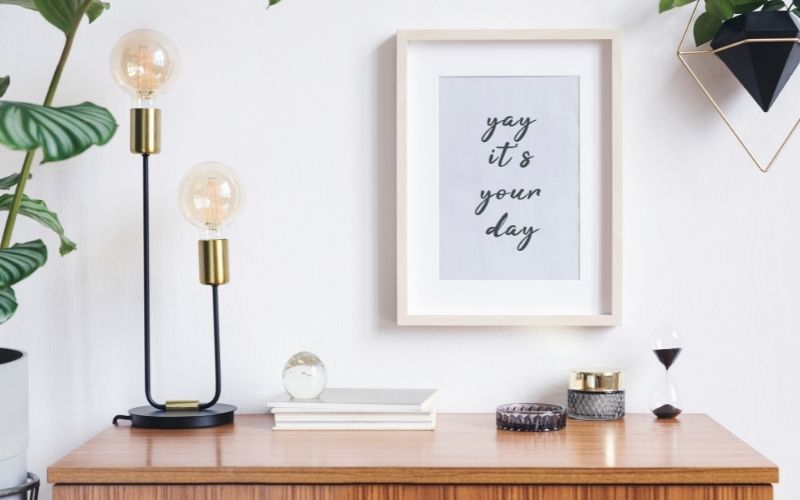 13. Smart TV
There are many ways to decorate a bedroom and the smart TV is an example of one of them. The smart TV is a device that has the power to change the way people interact with their homes. This device can be used for decoration purposes as well as entertainment purposes.
Smart TVs have been around for a while now, but only recently did they become popular in the market. Smart TVs come in different shapes and sizes, which makes it easy for people to choose one that will suit their needs and preferences.
Conclusion:
The bedroom decoration gives you a chance to add beauty to your life. Even if you have a very small room, you can make it beautiful and lively with these décor ideas.