When we all build our dream home, we see to that every nook and corner of the house is build upto our satisfaction. We know that we are going to spend the rest of our life in our home so we make more beautiful and modernized. But few a times we might miss out things that are innovative and unique, very few people opt for it.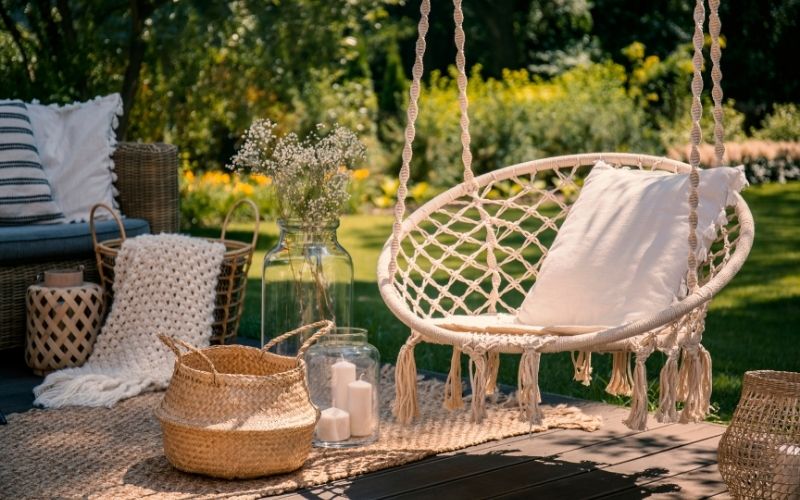 Let us reveal it, porch!. Porch is the best place to enjoy morning tea or coffee, enjoy a romantic dinner, family time and evening party with neighbours. Porches are much more than spots to enjoy the outdoors. Well-decorated, well-planned porches can boost curb appeal, exhibit a homeowner's style, and extend practical living space.
Building a porch can elevate and give your house a nicer atmosphere. When you start thinking about building a porch you have to remember to make it more desirable, detailed and planned. Let us enlist a few tips to build-up your porch more innovatively.
Try something new in traditional look
Finally when you start furnishing your home, you would prefer new sofas, chairs and seats that are comfortable for regular use and suits the interior of your house. But when it comes to porch you can pick all the stuff that are very traditional like settee that mimics the silhouette of a scroll-arm sofa and deep armchairs, Anchor the seating arrangement with an outdoor rug. All these are very few but you have got a lot of choices and varieties in the traditional look.
Porches are usually roofed, you make it a bit different by building a trellis or pergola it can block the intense rays of sun. This kind of open porch is more refreshing and replenishing since the fresh air, chirping birds and morning rise makes your day the best. You can also grow a few creepers over trellis or pergola so that it gives shade and veggies. You can also start growing strawberries, chillies, tomatoes and roses, since all these plants require less care and make your porch much greener. This makes your outdoor porch much more natural.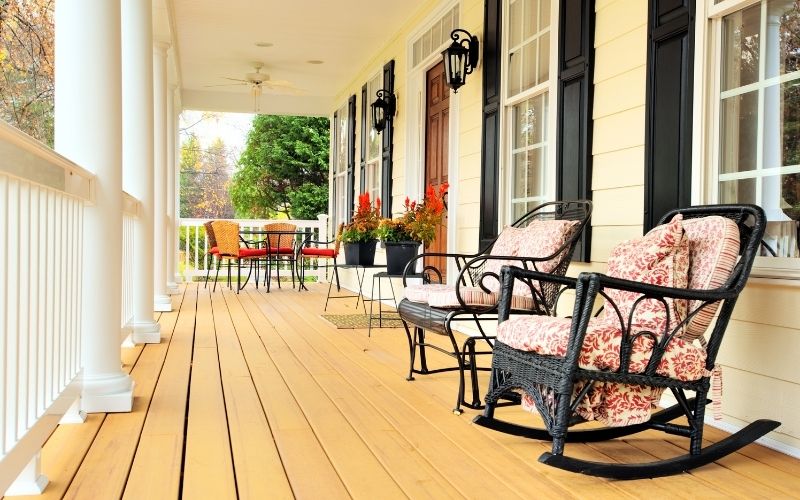 Divide your porch
With the smartest building ideas porch can be divided into zones. Like a parent zone and kids zone. You can decorate and build upon in your parent zone with your choices and preferences, you can make it more romantic as you want or just you can give a extended look of your interior hall. Whereas, in the kids zone they can make it as colourful as they want, paste stickers, place beanbags, floor to door basketball and their mini house with all toys. Literally, kids have many choices to opt for. This division will be best to spend a perfect family time on weekends.
Porch with fireplace
It's really delightful to have a porch and relax during mid-summer because it becomes really difficult to handle the scorching heat of the sun. When winter is on it's way the scene flips, we don't even step outside of our house. If you have a fireplace then you can enjoy seeing the snowfall, feeling the warmth from the fireplace. Porches can be customized by building a fireplace. If you live in the region of intense winter and snowfall then you should go for a porch with a fireplace. You'll be able to enjoy the best winters, deliberately!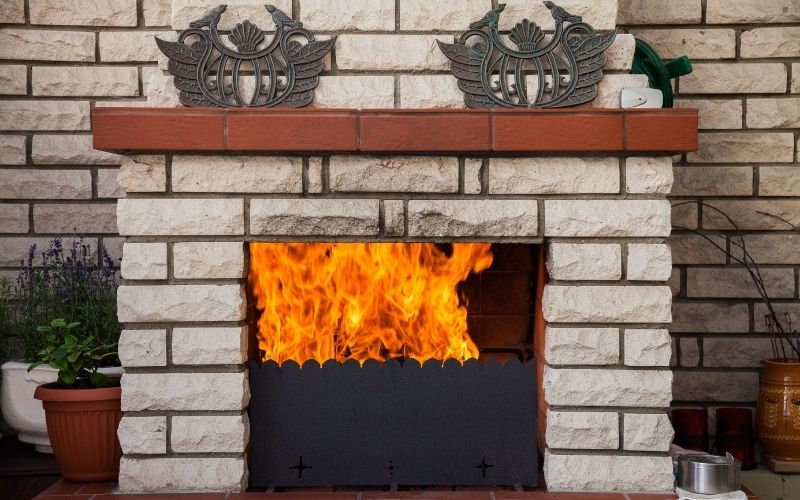 Pet-friendly porch
Having a pet seems makes us more enthusiastic, happy and gives us company forever. Then don't hesitate to give him his space on the porch. You can also build a more reliable and comfortable porch for your pet and yourself, so both can spend time together. You can also build your pet a small home inside your porch rather than building it in the garden since it can be more warm and safe for him to sleep, it also protects him from insects, pests and harmful predators. You can also place all your pet stuff neatly so that it looks and feels more of a pet porch.
A presentable porch
You can build a porch that resembles and feels like a cottage. Everyone would like a cottage but you can't live there. You can add everything to the porch that makes it look and feel like a cottage. Guests while entering your home could bring back their old memories living in a cottage and connect to their lives. A porch in a cottage style would be a very different and innovative thought to exhibit. This will really work out and grab the attention of all the people entering your home. If you're thinking of making it simple then building a cottage style porch is the best option.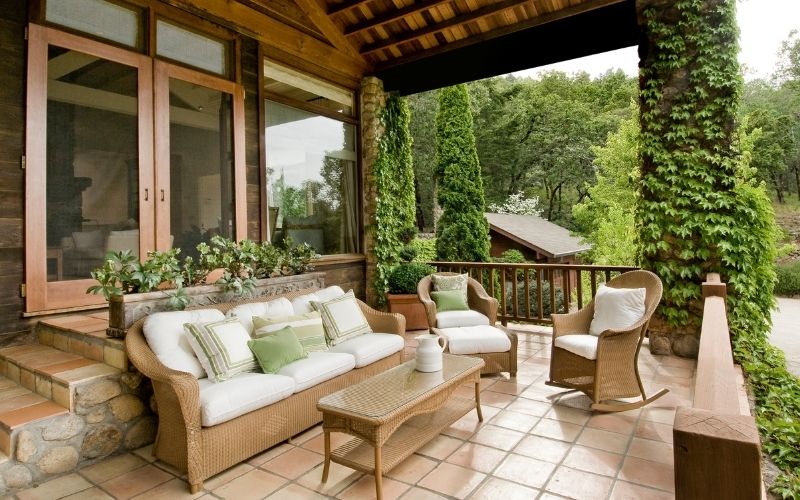 Grandeur and rich porch
You have built a bungalow with immense luxury and sophistication, then to match the interior parts of your bungalow you have to build a rich and grand porch house. It completely depends on one's personal opinion and liberty to build it on their own choices and tastes. To give your porch a rich look you can decorate the porch with ancient statues and portraits, candle stands with scented candles, sofa and chairs that would match with the interior of the house. On the whole, this can make your porch complete and give it a perfect rich and high-class look.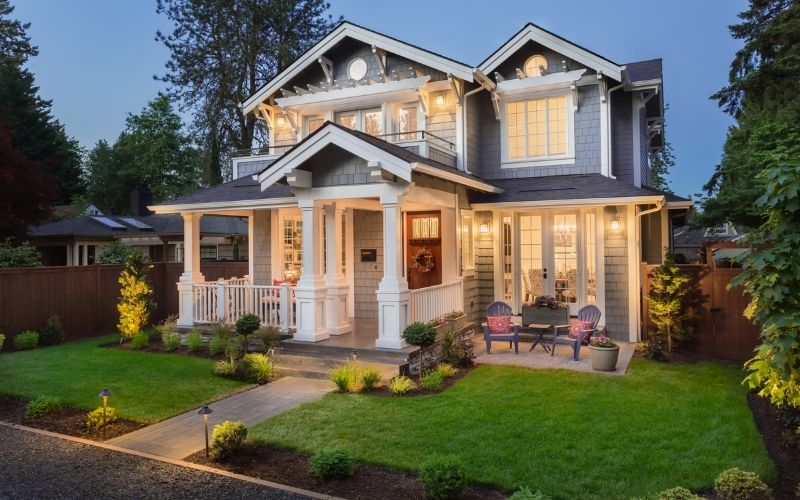 Art and craft detailing
You can think of a theme and build your porch. It can give life to your thoughts. Themes you select may be romantic, fairy, car, princess, comics, animations, cartoons and even horror. It sounds dramatic but actually the minute details and colours you work on would make it incredible. Choosing a colour that suits your wall till the vase that you keep in to decorate should be very easy if you stick on to the theme that you have chosen. So you can make your porch look trendy and different.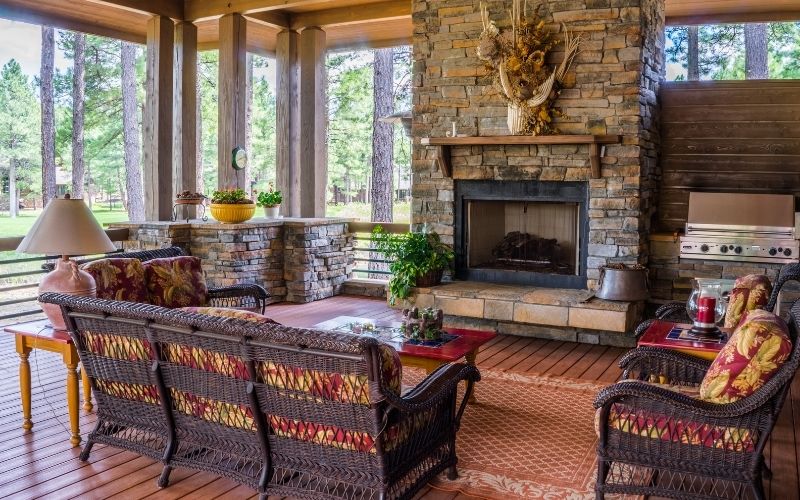 Beachy Porch
You can set up a porch with a beach look and it is definitely a very different idea and worth working on it. To give a beachy look to your porch, you can add some shade of blue to your wall and give a mesmerizing feel. Then hanging shells, lamps that are covered with clams and painting of beautiful aquatic animals all together can give it a perfect beach look and you can spend your weekends relaxing on the porch with your family or loved one and have some personal space.
Porch with kitchen
Setting up a kitchen in the garden is an extremely difficult task since all the machinery and tools have to be taken care of often and maintained. Rather than setting up in the garden you can build a kitchen on the porch. This requires usual care and it's a very great choice to have a kitchen in the porch so that when you invite guests for a party, you can serve them easily even though you are having an outdoor party. You can now relax and have fun on the porch else where you notice your guests enjoying at your kitchen porch.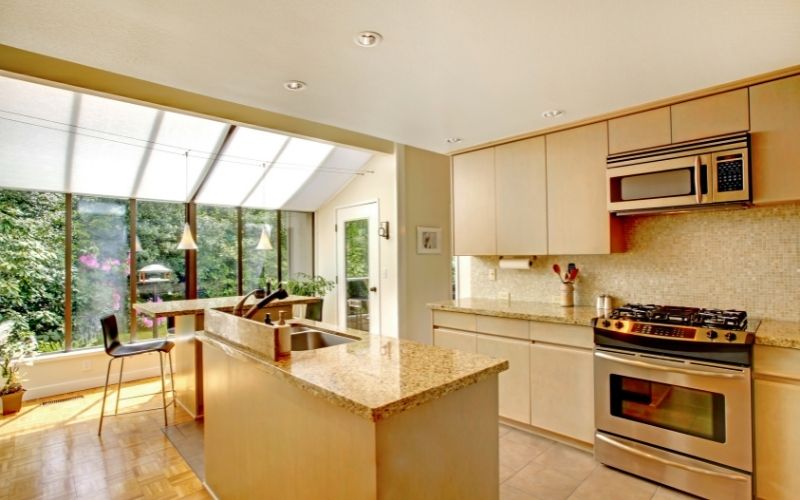 Porch like glass house
It will be very lively to live in a glass house but you can't build a huge one but you can change the roof of your porch to glass and enjoy the stay. When it rains you would feel like being in the rain but the advantage is you don't get wet and also if you build in lots of windows of glass, and cover it with screen, this would be the perfect place to sleep in the night by gazing at the stars and moon. You can spend the whole night watching the beautiful sky since the roof is of glass. Its transparency makes you enjoy your sky seeing. Sleeping under these kinds of roofs is enjoyed by all people.
Add on some extra amenities
Add a swing, grow indoor plants like devil's ivy, peace lily, spider plant, dracaena, anthurium etc., all these plants require low maintenance and need less water and keeps the porch refreshing and aeration will be continuous. This will turn your porch into a place that you love in your home and would always prefer a cup of coffee and work there with all your office stuff. You might also prefer tables and chairs to turn the porch into a party hall too. It would be a lovely place to meditate and perform yoga or even workout.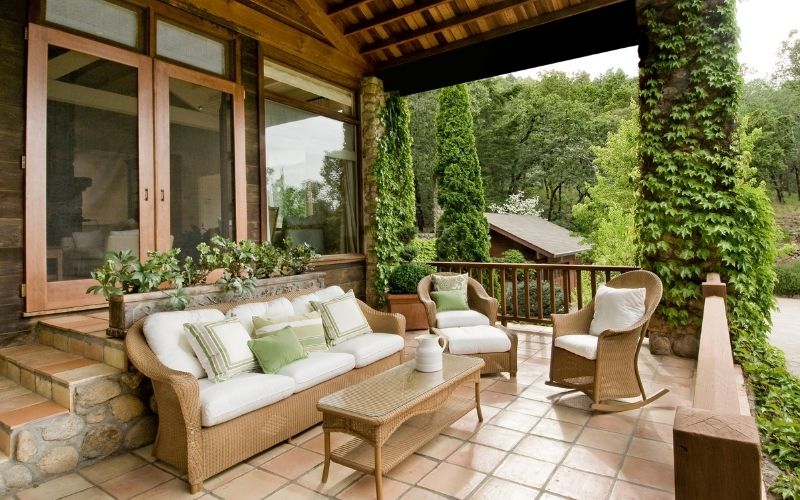 Portable Gym
Add equipment that you regularly use to do exercises and maintain your fitness. If you're a fitness freak then you should try out a porch with gym equipment. Daily morning you can workout with swaying trees, chirping birds, blooming buds, buzzing bees and fresh air. This is the best gym that anyone would opt to work out. Then relaxing on the sofa beside all your gym equipment and having a health drink sighting the greens is the best feeling ever. Think before building a porch even if you are not a fitness freak you would like to do exercises with mother nature.
All these above mentioned ideas would obviously help you to build a spacious and beautiful porch. This will also make you utilize the place the best because you build in better and occupy the place. The porch is the best place to relax and enjoy your tea or coffee after a long day of work. It gives you "me time" to enjoy thinking about you and your betterment. It also provides space for small get together, group lunches and also partying. It serves as a pacemaker of the house to bring your soul alive. Don't miss building a porch while planning your dream home.