In this guide, we explore the timeless allure of wooden garden fences, where the rustic charm of wood harmonizes seamlessly with the lush greenery of your outdoor sanctuary. Each fence design we present is a testament to the natural beauty and enduring appeal of wood, celebrating its unique character that stands the test of time.
"Amazing Wooden Garden Fence Designs" embodies the essence of elegance and simplicity, showcasing a collection of designs that add a touch of enchantment to your garden. Whether you're seeking privacy and security or an artistic focal point, wooden fences offer versatile solutions that complement the landscape with grace.
Our guide unveils a diverse array of wooden fence designs, from classic picket fences that exude a quaint cottage charm to sleek modern panels that embrace contemporary aesthetics. Each design is thoughtfully curated to inspire your imagination and elevate your garden's ambiance.
Wooden fences also offer a perfect canvas for artistic expression, allowing you to experiment with paint, stain, and creative patterns to infuse your personality into the design. Whether you prefer a natural finish that ages gracefully or a bold color that adds vibrancy, wooden fences can be tailored to reflect your unique style.
Moreover, wooden garden fences foster a sense of connection with nature, as the organic texture of wood complements the greenery, creating a seamless transition between the garden and its surroundings.
There is an array of stylish and effective garden fences available in the market today. If you want to go all-natural with standard garden wooden fence panels that will compliment your flower beds and shrubs or you want to go modern, minimal, and chic with recycled plastic and wooden screen fences and metallic fencing panels.
There could be many reasons to install a garden fence for privacy, and protection. Supporting your plants and bushes, or simply providing edge to your property. No matter what your reason is to be in the market! Our goal is to show you the variety of garden fences that can help you to give the finishing touch to your precious garden.
As the saying goes, "There are no gardening mistakes, only experiments" so get set ready to embark on a new adventure to choose the best garden fence that fulfills both your and your garden's needs.
We have roughly categorized garden fence ideas into 6 categories that will give you an overview of different styles of fences and the material they are made of and how they can contribute and add value to your hard work.
1. Standard Garden Wooden Fence Panels
When it comes to styling your garden and protecting your plants, natural garden fences are the first to pop into your mind I.e. wooden garden fences. There are abundant standard garden wooden fence panels available in the market that can enhance the beauty of your flower beds or protect your home vegetable garden "au natural" without impacting their integrity and maintaining their health.
You can either opt for traditional standard garden wooden fence panels such as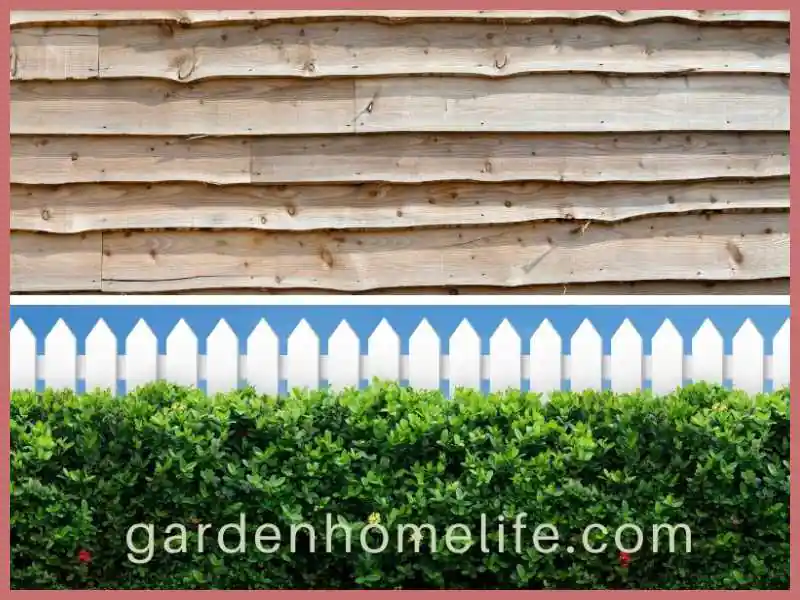 Overlap
Feather Edge
Picket
Post and rail
Close board-style panels
Wooden frame chain link etc
OR
Style your garden with decorative wooden garden fences that will add both glamour and protection to your garden such as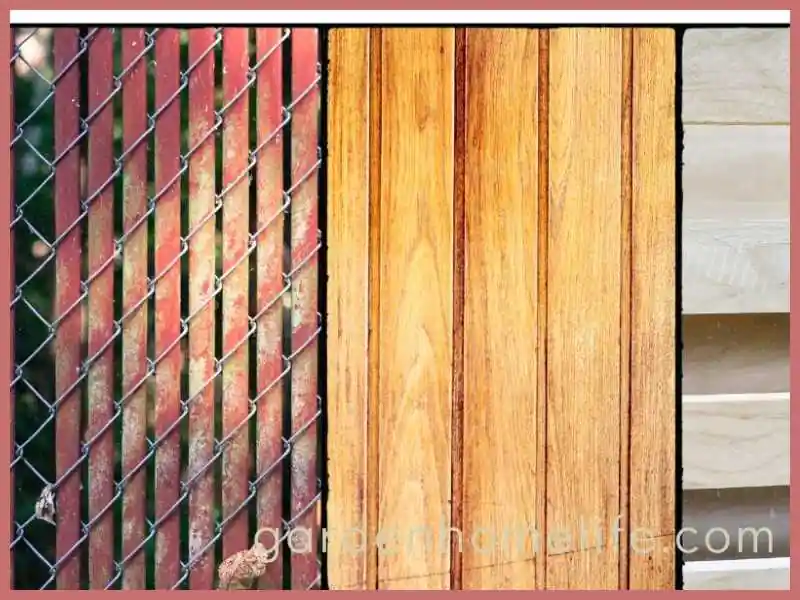 Tongue and groove garden fence
Hit and Miss garden fence
Slatted Fencing
Lattice Garden fence
There are some popular types of wood used in garden fences that are adequate for different weather conditions and last longer with proper care and treatments all over the UK, the US, and Europe. 
Cedar Fence
Pinewood fence
Oak Fence
Cypress wood garden fence
Redwood fence
Wooden fencing is exclusive and easily becomes a part of your life but they sure are expensive and need regular care and maintenance. However, you can buy standard garden wooden fence panels directly from Buy Fencing Direct at affordable rates with treatments and check out their massive wooden garden fence collection.
2. High-Security Mesh Style Garden Fence
If you are more concerned about the security of your garden and home but still want to flaunt your gardens and be the center of discussion in your tea parties and supper then you should opt for mesh-style security high fences. 
Mesh-style garden fences are safe, secure, reliable, and more budget-friendly. If you are thinking it won't provide any style to your garden then you couldn't be more wrong.
Now, there are different mesh-style security high fence options available in the market that will add comfort and style to your security measures.
Types of mesh-style security high fences available in the market for your home and garden fence are: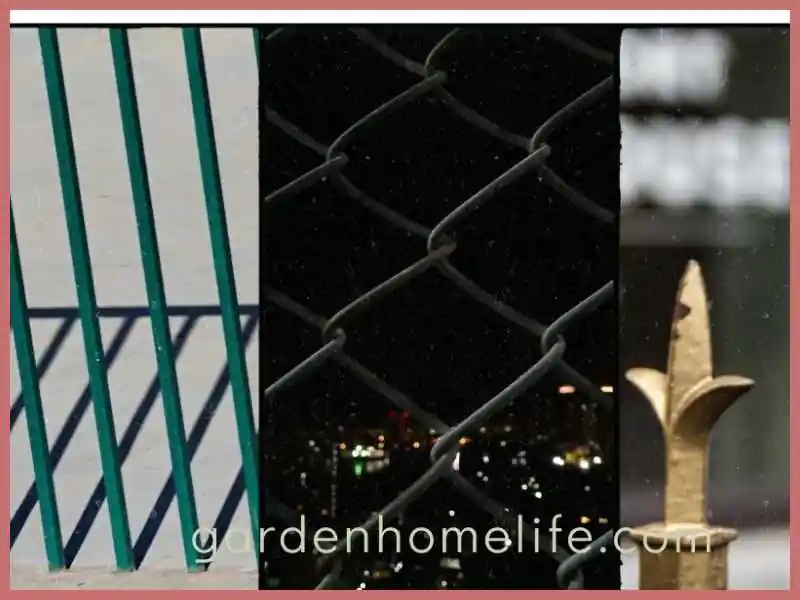 Vertical Bar Fencing
Welded mesh fencing
LPCB Security rated fencing
Metal railings
Fence spikes and tops, garden fences, etc.
If you are looking for low to medium-level security options for garden fences in mesh style security high fence to keep the farm chickens and kids away then welded mesh fence is a suitable choice for you but if you won't go beyond and opt for high-level mesh style security high fence then check out the more Barbican range at Jackson Fencing and many more mesh style security high fences.
3. Garden Screen Style Fencing
Looking for a fence but don't want to compromise your view. Do not worry! Garden screening style fencing is invented for people like you who want to add acoustic and privacy to their gardens without compromising the view or flaunting your hard work.
The garden screen style has a more modern and chic approach. They can bring glamour to nature and enhance the beauty of your rare plants and flower collections. You can opt for partial or full screening garden fences that will allow you to communicate with the world while protecting your botanic.
If your garden has softer tones and a landscape theme then choosing the garden screen style fencing as your garden fence will give you the right amount of privacy without boxing your garden. Check out the luxurious and economical idea and range of garden fences with privacy screening at Screen With Envy.
4. Garden Picket Fence
The garden picket fence is a traditional and standard wooden garden fence, but it represents both modern and ancient approaches to gardening and security. Today, it mostly defines the living standard. 
Garden picket fences are for the people or neighborhood who respect each other's boundaries and like to appreciate the view and admire nature's beauty. They surely protect critters and small animals that can harm your precious flower beds or vegetables, but they also add culture and glamour to your gardens.
Types of garden picket fences are:
Round-top picket fencing
Pointed top picket fencing
Flat-top picket fencing
You can either homemade them or order a ready-made set online at comfortable rates from KUDOS Fencing Supplies. Redwood is a more popular and durable material for picket-style garden fences and you can treat it with stains, oils, and oil-based paints which make them more durable and easy to maintain.
5. Recycled Plastic and Wooden Screen Fencing
Besides planting trees and nurturing nature in our backyard gardens. We can contribute more towards nature by choosing eco-friendly garden fencing options that are inexpensive, stylish, and safe. 
Recycled plastic and wooden screen fencing are the new trends in town. Recycled plastics are more durable and offer high-grade strength with style. You can easily replace them with wooden garden fences. Most of the recycled plastic screen fencing looks similar to your wooden garden fences but requires minimum to zero maintenance and can last for several years.
Another eco-friendly option is making the fence from reclaimed wood. They fulfill your dream of having a real wooden screen and garden fence but also provide a traditional acoustic theme for your garden or birthday parties.
Both recycled plastic and wooden screen fencing are economical and desirable options to bring glamour to your garden without harming your budget and pocket. Here are a few suppliers of recycled plastic and wooden screen fencing for your beautiful home.
6. Metallic Fencing Panels
Garden fences also come in metal. Surely, it is an expensive option, but it is the safest, most secure, stylish, pretty, and durable garden fencing option. Metallic fencing panels come in attractive and vibrant colors in laser-cutting designs that represent strength and beauty in one frame.
Metallic fencing panels are more decorative-style garden fences. You can use them to bring value to your garden and homes at various places such as 
Traditional garden fence screens
Trellis
Pergolas
Garden gates
Balustrade panels
Planters
Moon gates etc.
Metallic fencing panels may cost a bit much than your usual garden fences but they are worth spending the money on as they can never go out of style. You can even incorporate them with your traditional garden fences to give a contemporary look to your garden.
Conclusion
As they say "Gardening is the work of a lifetime: you never finish" so it goes with the garden fences. Whether you choose a wooden-style traditional garden fence to attract visitors and make your neighbors jealous or a mesh-style security high fence to maintain privacy and protection against trespassers. 
Your garden fence will require constant attention along with your botanic. Make sure the height of your garden fence is within the legal limit ( 6ft in the UK) if you want to go higher then you must contact the planning permission of your region and then move forward. Don't forget to power wash and paint your garden fence at least once or twice in a year based on your weather conditions and invest in treatment especially for your wooden garden fence to avoid any future expenses.
Meta Tags
Meta Title: