Amidst the natural splendor of your garden oasis, a charming outdoor deck stands as a cherished space—a gateway to relaxation, gathering, and cherished memories. We unravel the secrets to preserving and enhancing your garden decking, ensuring it remains a durable and enchanting extension of your home for years to come.
As the heart of outdoor living, your garden decking is subjected to the elements and foot traffic, necessitating proactive care to withstand the test of time gracefully. In this guide, we embark on a journey to explore the essential techniques and time-tested methods that contribute to the longevity and beauty of your garden deck.
Our focus lies in empowering you with the knowledge and expertise to nurture your decking, unlocking the tools and strategies needed to address common issues and maintain its structural integrity. From wooden decks to composite materials, we tailor our advice to suit different types of decking, ensuring you have a comprehensive understanding of each material's unique requirements.
Moreover, we recognize the significance of eco-friendly practices and sustainable solutions. We explore environmentally conscious options to safeguard your garden deck, promoting both its longevity and harmony with nature.  As you delve into the essential techniques for garden decking maintenance, you'll discover how to diagnose potential issues, identify signs of wear, and implement timely repairs. By taking a proactive approach, you can prevent minor concerns from escalating into costly problems, preserving your garden decking's appeal.
So, whether you're a seasoned gardener or a novice homeowner, "Garden Decking Maintenance" is your guide to nurturing and enhancing your outdoor haven. Embrace the joy of creating a long-lasting and enchanting garden deck, where tranquility, beauty, and cherished moments blend seamlessly.
Who can object to bright, shiny, and sun-kissed garden decks? They not only become the cool place to admire your handy work and hang out with your friends and family but also become the center of attraction because mostly everyone organizes their garden according to their garden deck placement.
Although, we all know garden decking is hard to maintain as they need annual repair and restoration of the wood. Mainly due to the environment. After a while, you find your garden decks in rust or grey color because of the harmful UV effects, or they get prone to algae, fungus, and mold. 
But the good news is you don't have to replace your decks with a new one every couple of years. Your garden decking can be restored to new with little treatment and restoration. It is also essential if you want to keep enjoying your view without causing any incidents. These algae and molds that form on the decks can become the cause of allergic reactions to some. Moreover, if they spread they can harm your beautiful garden and flower beds. 
Besides that, it makes the surface slippery which can lead to an accident. However, you can all avoid these situations and by regular maintenance of your garden. 
Now, don't you worry! You don't have to find some spare time. Many of these treatments last for years and keep your garden decks shiny and strong like a horse. 
Common Garden Decking Issues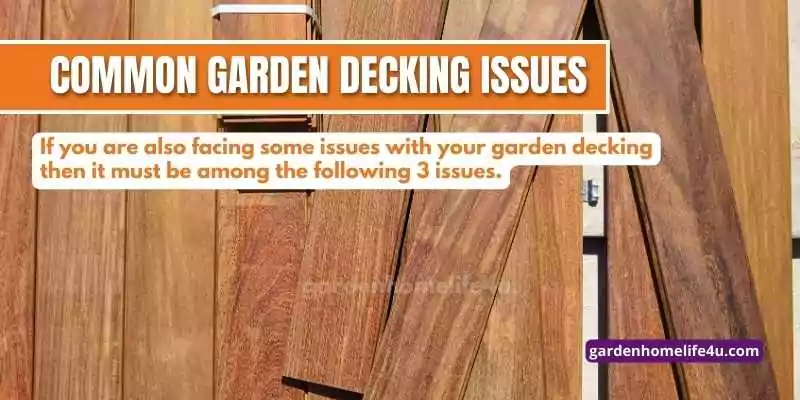 If you are also facing some issues with your garden decking then it must be among the following 3 issues. Here are the 3 most common garden decking issues that make your garden tiresome and lonely. 
1. Loss of Color – it is a very common problem and no matter what if your garden deck is made from softwood or hardwood. One of the main reasons for the loss of coloration is UV light. UV rays from the sun damage the wood and cause discoloration. Your garden decks mostly turn grey or silver over time. 
There are many easy solutions available in the market for the same like deck oiling and deck stains. They are budget-friendly, eco-friendly, effective, and long-lasting.
2. Moss/Mould or algae – this issue can happen in both new and old decks. One of the main reasons is due to the weathered conditions and moist environment. Even the newly treated garden decking is not far from this issue.
Jet washing and power washing is one of the effective treatments and can wash off all the surface matter but it should be followed with a fungicidal wash or mildew remover to kill off any mould spores and restrain them from spreading further.
3. Cracks and peels – it is one of the most common issues with old decks. Garden Deckings start losing their appearances after a few years. The surface of the garden decks starts peeling off or visible cracks appear on the surface.
It only means that your garden deck needs little care and repair and it will come back to its former glory. Based on how worse the condition of your garden decks is, you can opt for decking preservers, colored and clear decking oils, and garden decking paints.
Types of garden decking treatments and repairs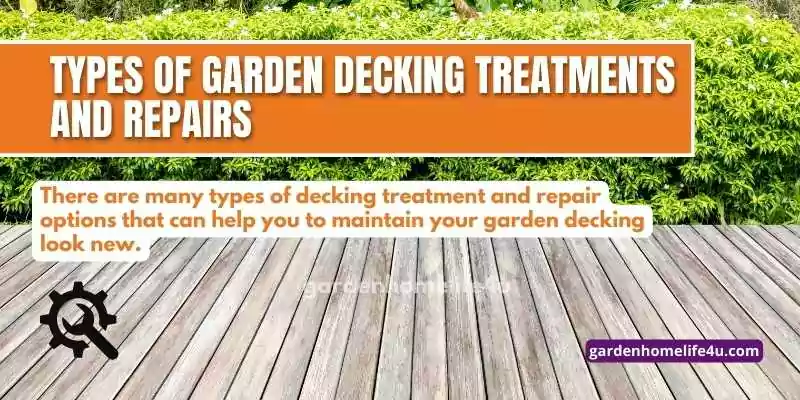 There are many types of decking treatment and repair options that can help you to maintain your garden decking look new. However, there are things that you need to give consideration first. 
1. Know your wood, it could make a huge difference in the choice of treatment and interval of repair and maintenance. Softwood is more prone to infections and needs regular chemical treatment thoroughly but hardwood is easy to maintain and doesn't always need chemical treatments.
2. Identify your garden decking issue, every problem has a different solution. Identifying your garden decking issue will save both your time and money.
Here are the popular garden decking treatments and repair options:
1. Decking Cleaners and Restorers
Decking cleaners and restorers can be used for preparing fresh bare wood to make new decks or to repair old decks and preserve them from any biological growth like fungus, algae, and mold. 
This treatment is suitable for both softwood and hardwood. Decking cleaners and restorers act as protective agents and stop any kind of infection while maintaining garden decking appearance and finish.
If you are facing mold or algae issues or your garden deck is old and losing its finish and starts flaking then it is one of the effective and long-lasting treatments. It will kill off any biological growth above, below, or between the surface and restore the appearance of your garden deck. 
Check out the RONSEAL decking restorer, garden-friendly easy decking cleaner, and restorer to glorify your garden decks.
2. Wood and Decking Preservatives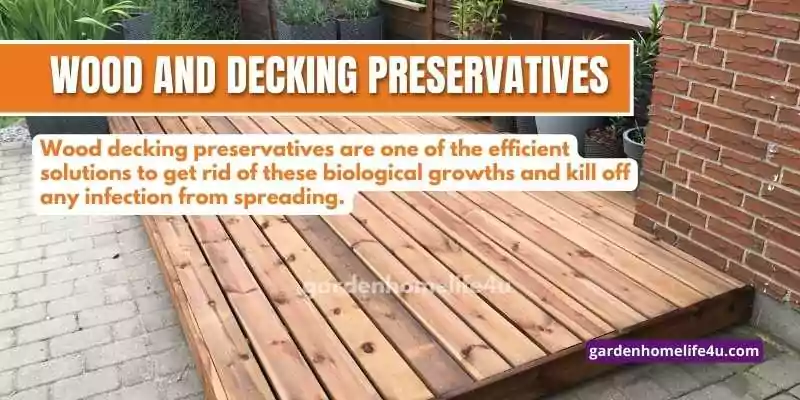 Due to the moist and damp environment, even newly treated decks become the home of the mold and algae that can make the surface slippery and if you have respiratory health issues it can lead to lung damage or difficulty in breathing as they make the air dense.
Wood decking preservatives are one of the efficient solutions to get rid of these biological growths and kill off any infection from spreading. Moreover, these infections can cause the wood to rot. 
Wood and decking preservatives are essential and not a choice. It is advisable to opt for these wood preservatives from the beginning as they will increase the age of your garden deckings by following regular treatments annually or depending on the condition of your decks.
We recommend the wax-free wood preservers as they are ideal for both water-based and solvent-based decking paints, stains, and oils. Barrettine Premier Universal Preserver is our top choice.
3. Decking Oil
Decking oil is one top choice to repair and maintain your garden decking. Simply because they are easy to apply. One of the main advantages of opting for a decking oil is they protect against cracks and peeling of the decking surface while protecting against discoloration and biological growth. You can either use clear decking oils to enhance the natural color of the timber or use colored decking oils to give a fresh look to your garden decks while protecting against UV rays.
Our recommendations are Ronseal Decking oil natural and Osmo Decking oil
4. Decking Stains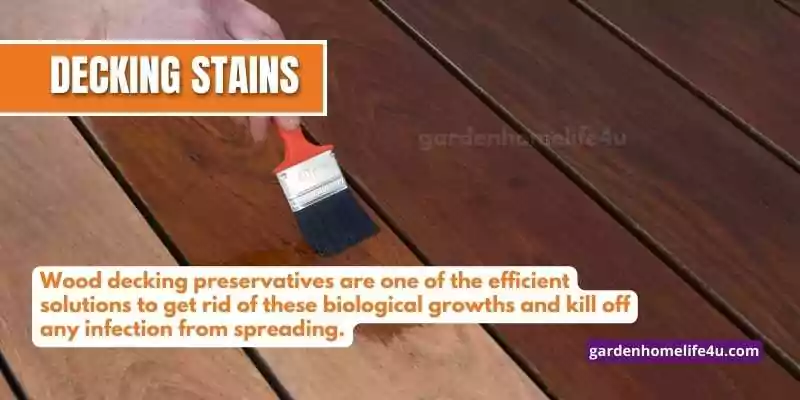 Decking stains are affordable and durable options to repair and maintain your garden decking. They come in different shades and colors. Decking stains are semi-translucent and enhance the color of the wood while allowing you to see the natural grain and texture of the wood with little color enhancement. Cuprinol anti-slip decking stain is ideal for both softwood and hardwood,
5. Decking Paint
Decking Paints are an affordable and quick-fix solution to most of your garden decking problems. We recommend decking paint options to repair and maintain your old garden deckings. They provide an opaque finish and restore the appearance without much hassle. 
Decking paints are available in many colors and you can also add wood preservatives before applying to last their effect and save the timber. They are suitable for any kind of wood and the process of repairing them is quite easy. Trade Paint is one of the most popular decking paint with excellent results.