Let's explore the domain of purposeful gardening, where the very essence of each tree you choose breathes life and meaning into your landscape. Step into "Growing with Purpose: Tips for Selecting the Perfect Trees," a guide that unlocks the art of thoughtful arboreal selection, helping you create a garden that is not just beautiful but deeply meaningful.
In this enlightening journey, we delve into the power of purpose behind every tree you plant. Gone are the days of random choices or hasty decisions; instead, we invite you to embrace the wisdom of deliberate selection – trees that serve a distinct purpose, enriching your garden with their unique contributions.
Our guide is your compass, navigating through the diverse array of trees available to discern the perfect ones for your landscape. From majestic shade providers to vibrant flowering trees that paint the seasons, each choice is an opportunity to craft a garden that aligns with your desires and aspirations.
We'll unveil the magic of trees that exude fragrances, infusing your garden with delightful scents that awaken the senses. Moreover, we'll explore the significance of native species, fostering a sense of place and contributing to the preservation of your region's natural heritage.
So, let's grow with purpose, nurturing trees that leave a lasting legacy in your garden and contribute to the greater tapestry of the environment. Whether you seek shade, sustenance, or symbolism, our guide will empower you to make choices that fulfil your gardening aspirations, leaving a mark on your landscape and in your heart.
So you're thinking of adorning your garden. Then a good first step is knowing how to choose your trees. Trees will not only give your yard a spectacular look but also will do the job of screening your space, giving privacy, purifying the air around, cooling the surroundings and giving shelter to birds and other tiny but important members of our ecosystem. It is said that if you're going to plant a tree, but the Day of Judgement begins, go ahead and try to finish planting it before The Hour is established.
Choosing the right tree for your garden will depend upon the same factors as those for choosing plants, which we've discussed here- (insert link of our "how to select plants" blog).
How to choose trees: A little heads-up:
Before buying the trees, it would be wise to visit a local botanical garden to analyse the specimens already planted.
When buying, both bare-rooted trees, as well as container-grown trees, will be available to choose from. The containerised trees may be planted at any time of the year but will need more water if planted during spring and summer. For the bare-rooted trees, November to February is the best time period to plant, provided the ground isn't frozen or drowned.
After planting the trees, watering them appropriately will make all the difference. Instead of watering it daily, water it every 3-4 days. This'll make sure that the roots don't remain on the superficial layers of the soil in anticipation of a frequent water supply, but will dig deeper to search for water. This, in turn, will help them survive any drought like situation.
Here are our arboreal suggestions to make things easy:
How to choose trees – SMALL GARDEN TREES: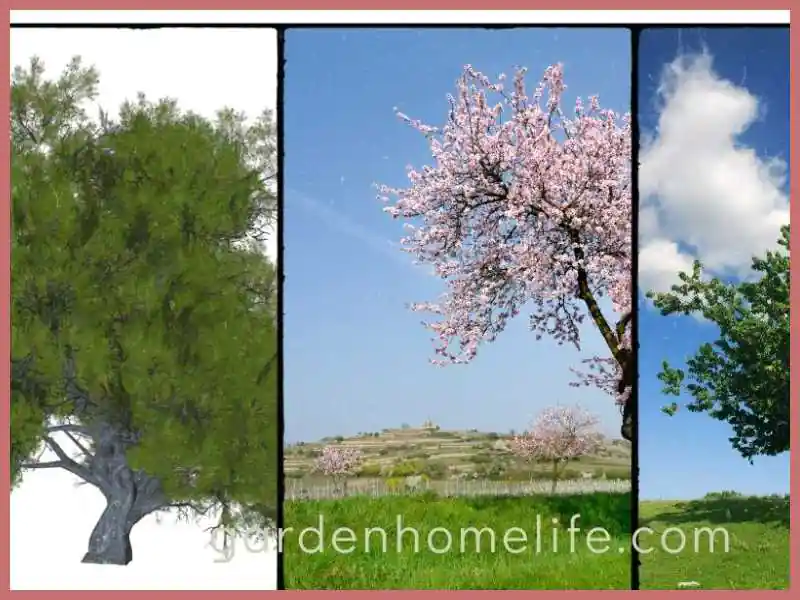 a) Almond tree
Mature height: 12-15 feet
Dwarf Height: 4-5 feet
Plant it in full sun or partial share in acidic, moist soil.
b) Cherry tree
Mature height: 12-15 feet
Dwarf Height: 8-10 feet
Although some varieties may sometimes grow as tall as 30 feet, so look for a smaller variety in your local gardening centre.
Plant it in full sun and moist soil.
c) Juniper
Mature height: 10-15 feet
Dwarf height: 1 foot. So cute! 😀
Have tiny, scale-like leaves.
They bear tiny blue or blue-ish green berries.
Two great varieties are Hollywood Juniper and Skyrocket Juniper, both drought-resistant and low-maintenance.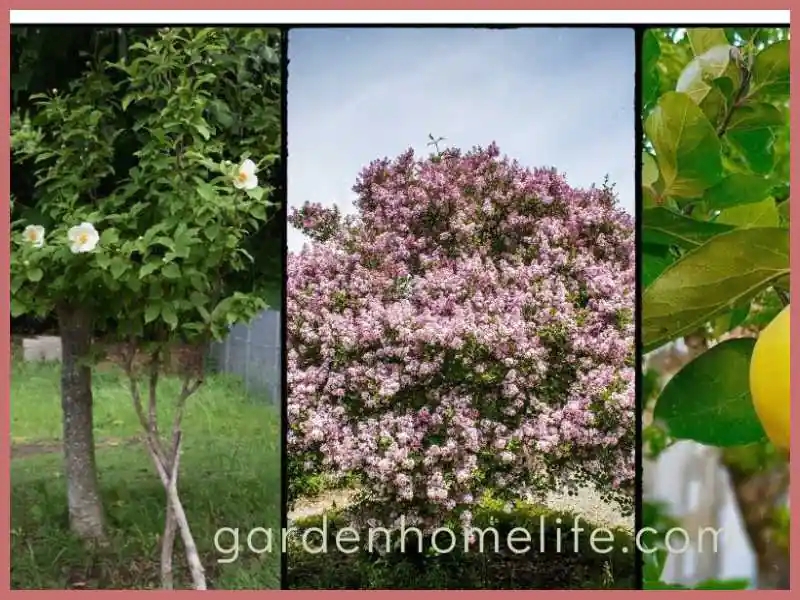 d) Lilac
Mature height: 8-15 feet
Dwarf height: 4-6 feet
Pretty, fragrant spring blooms.
Plant it in full sun and well-drained soil.
Flower colours range from white to hues of pink, purple, lilac or lavender.
e) Mountain Stewartia
Mature height: 10-15 feet
Dwarf height: 10 feet
To be planted in full sun in moist but well-drained soil.
Gives lovely white flowers in July.
f) Quince
Mature height: 6-10 feet
Dwarf Height: 3 feet
Usually blooms in spring but some varieties may bloom in the autumn too.
Fruits ripened in autumn can be used to make jelly or jam. I only mentioned this to hint that you plant this tree and gift us a jar of that homemade jam! 😀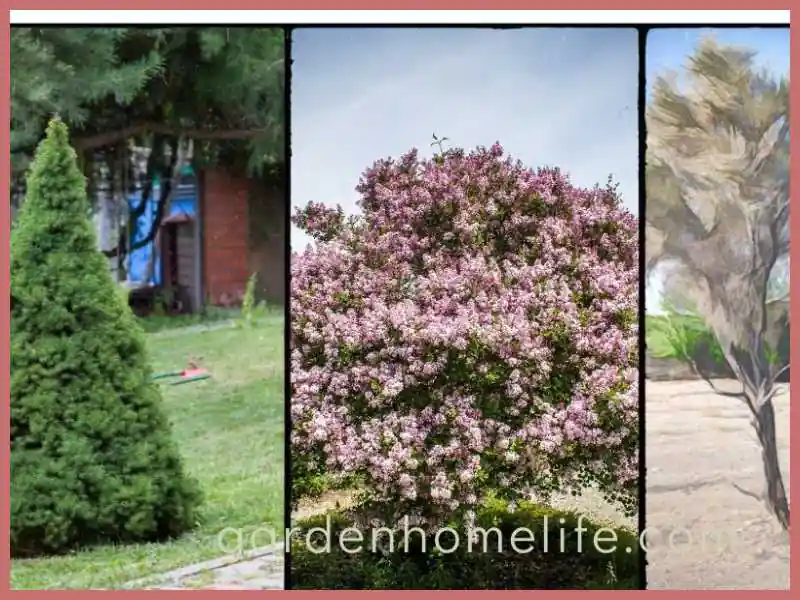 g) Smoke tree
Mature height: 10-15 feet
Dwarf height: 4 feet
Fine, feathery flowers in June.
Plant it in full sun in moist, well-drained soil.
h) Conica Spruce
Mature height: 10-12 feet
Dwarf Height: 6-8 feet
Plant in slightly acidic, moist, well-drained soil in full sun or partial shade.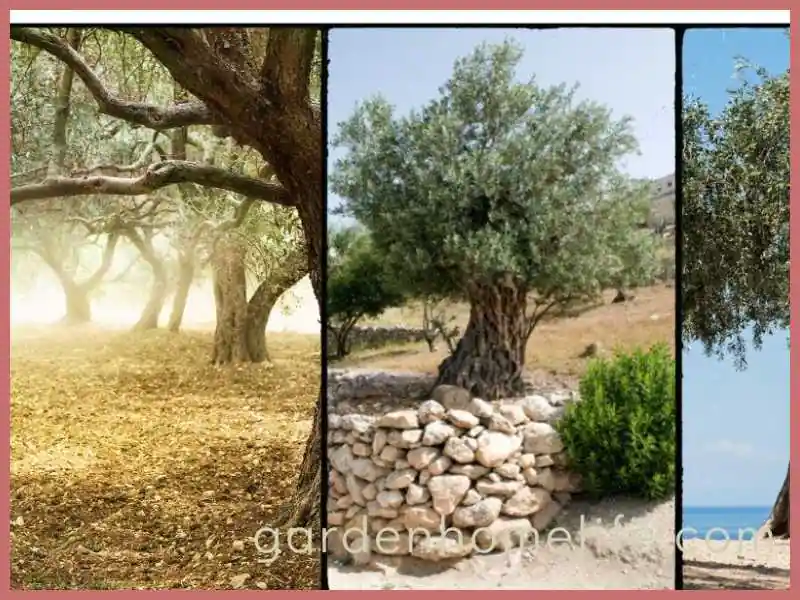 i) Sweet olive
Mature height: 10-12 feet
Dwarf Height: 4-6 feet
Plant it in any soil in full sun or partial shade.
How to choose trees – MEDIUM-SIZED TREES:
a) Apple tree
Mature height: 20 feet
Dwarf Height: 8-10 feet
Plant in slightly acidic soil in full sun while it is dormant.
Most varieties fruit in 3-5 years. It's better to have a few apple trees nearby to facilitate pollination.
Check out these great 19 apple tree varieties for your garden: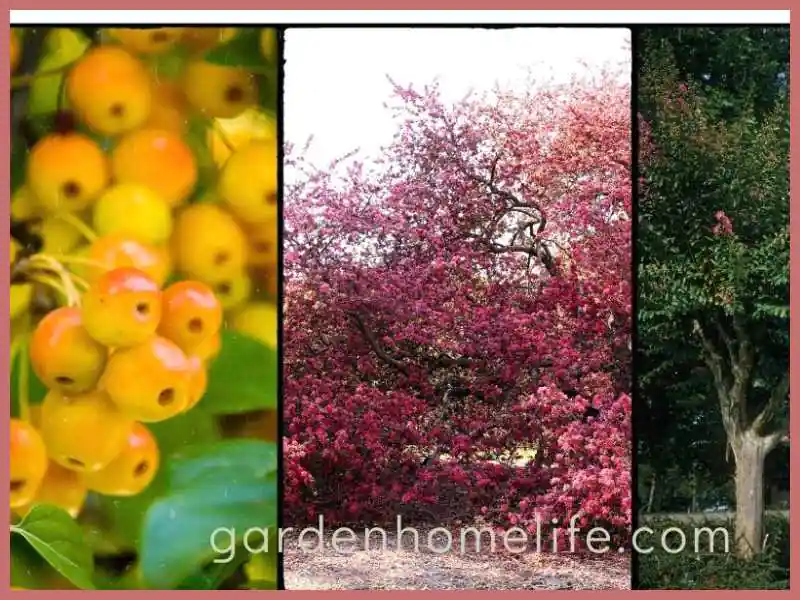 b) Chaste tree
Mature height: 10-20 feet
Dwarf Height: 3-4 feet
c) Crab Apple
Mature height: 20 feet
Dwarf Height: 5-10 feet
d) Crape Myrtle
Mature height: 15-30 feet
Dwarf Height: 3-4 feet
e) Dogwood
Mature height: 15-25 feet
Dwarf height: 4-6 feet
f) Franklin tree
g) Chinese Fringe tree
Height: 12-20 feet
This is the dwarf variety.
h) Panicle Hydrangea
Mature height: 10-25 feet
Dwarf Height: 3-5 feet
i) Golden Chain Tree (Laburnum)
Mature height: 15-25 feet
Dwarf height: 3-4 feet
j) Lemon tree
Mature height: 10-20 feet
Dwarf height: 4-5 feet
k) Magnolia
l) Japanese Red Maple
Mature height: 15-25 feet
Dwarf height: 2-3 feet
m) Pawpaw
Mature height: 15-30 feet
Dwarf height: 4-8 feet
n) Peach
Mature height: 15-25 feet
Dwarf height: 8-10 feet
o) Bartlett Pear
Mature height: 20-30 feet
Dwarf height: 10-15 feet
p) Cherry Plum
Mature height: 15-25 feet
Dwarf height: 8-10 feet
q) Juneberry (Serviceberry or Snowy Mespilus)
Mature height: 15-25 feet
Dwarf height: 10 feet
r) Scarlet Buckeye
s) Russian olive
t) Japanese Stewartia
u) Tea Tree
Mature height: 20 feet
Dwarf Height: 2 feet
v) Silk or Mimosa tree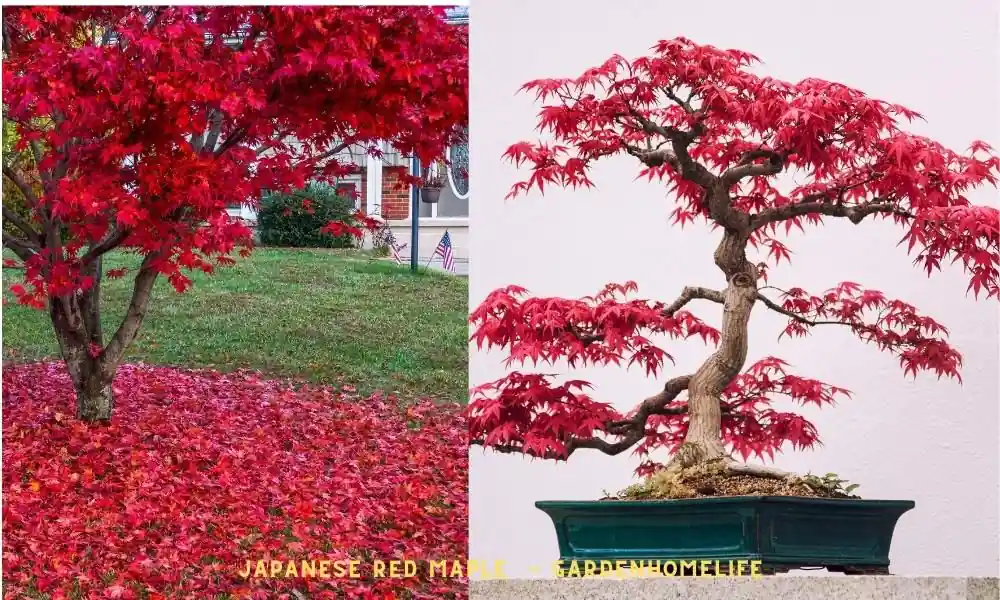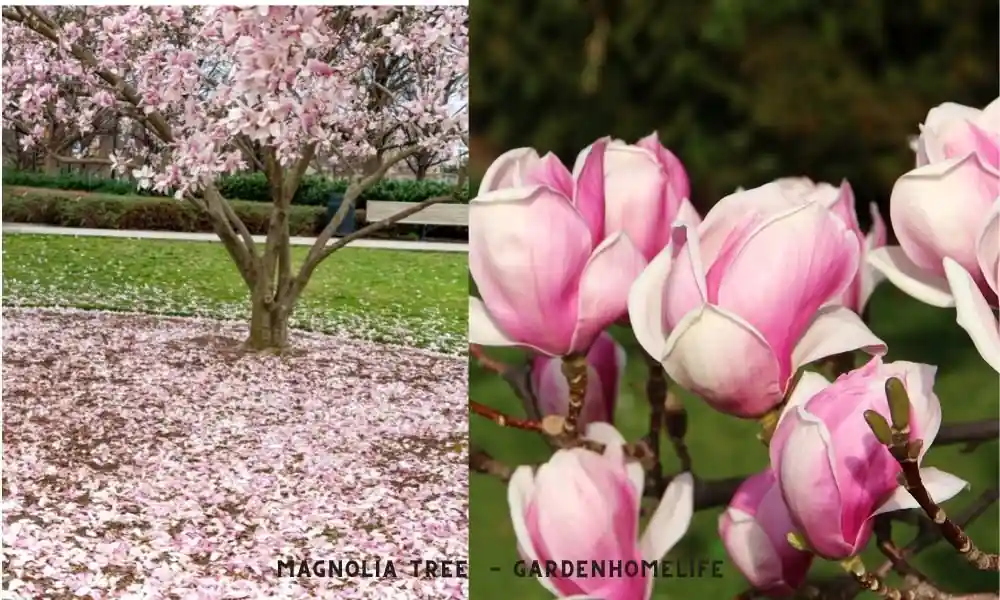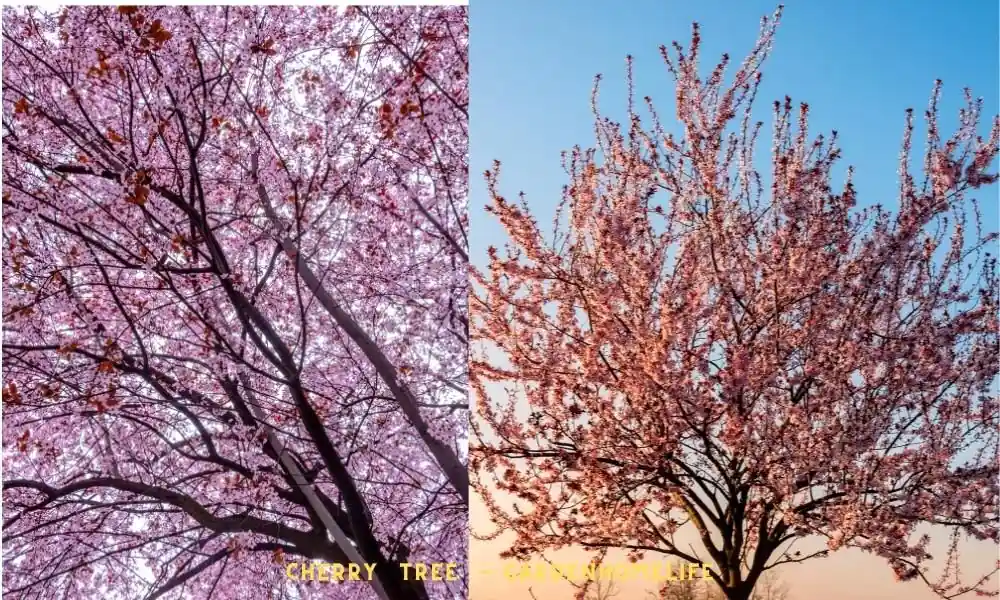 How to choose trees – Large trees:
a) Eucalyptus tree
b) Willow tree
Average height: 35-50 feet
Occasionally 70 feet
c) Northern Red Oak
Average height: 90 feet
Occasionally > 140 feet
Lifespan- about 500 years
d) Red Maple
Average height: 80 feet
Occasionally 125 feet
e) Dawn Redwood
Average height: 70 feet
Occasionally 200 feet
f) American Sycamore
g) Eastern White Pine
Average mature height: 150 feet
Occasionally 180 feet
Lifespan 400 years
Now that we've discussed trees for your garden according to size, we suggest you consider some of the following totally cool trees too-
BEECH TREES:
Height: >= 80 feet
They give dense shade.
Lifespan: 500 years
Better suitable for huge gardens since their branches hang low, and being dense can cause obstruction to others around if there's little room.
BIRCH TREES
Suitable for large gardens.
Height: 40 feet
Provides light shade.
Very adaptable and fuss-free tree. Can adjust to any type of soil or sunlight exposure and is drought resistant. If only I was half as chilled out as this tree is!
Remember to prune only between late summer to mid-winter (the dormant season), to avoid bleeding of sap and weakening of the tree.
Check out this to know the best Birch trees for your garden.
HORNBEAM TREES:
Height: 30 feet
Careful, as it's brown nuts are inedible.
Seedlings need partial shade in the beginning. But after a season, they need to be transplanted to an area of partial or full sun.
BLOSSOM TREES
Have many varieties suitable for all garden sizes.
Height: 13 feet to 66 feet
Blossom trees attract pollinators so your garden will produce more fruits, flowers and seeds.
These provide food for both humans and birds.
Easy to maintain.
We've already covered a few of the flowering trees in the previous sections, but check out these 10 best blossom trees for your garden.
MAPLE TREES
Its smaller, Asian varieties are called Acer.
Can adapt to different soils, altitudes, and sunlight exposures and can tolerate some dryness.
Height depends on the variety: 30-100 feet
Some varieties are planted for aesthetic purposes, while others like Sugar Maple, are for maple syrup. (Damn. I'm craving pancakes now! ☹)
COTONEASTER TREES
Tolerate both dry and moist soil but not water lodgement; both sun and shade.
Easy to maintain. Don't need regular watering or pruning.
They attract pollinators, and shelter and feed wildlife.
400 species. Here are 21 best Cotoneaster varieties for your landscape.
COMPACT ASH TREES:
Also called Rowan or Mountain Ash trees.
Average height: 16 feet.
Ornamental, suitable for small to medium-sized gardens.
Adapt to different soils & sun exposures. Prefer fertile, moist, well-drained soil but one that doesn't get waterlogged.
Here's some good advice on how you can choose Rowans for your garden.
Our Selection – Most Loved Garden Trees
These trees that I selected would work in most Gardens and situations actually:
 Fig Tree: from the start first of all with a tree that's great for a container this is the fig Brown tree and it really likes living in a container so you're not being harsh to it it will produce better fruit and better growth and it's got restricted root system so if you fancy having some lovely juicy figs and summer this could be for you,  need a really sunny spot though so if you're in a North facing plot then it may not work for you.
 Red sentinel crab apple Tree:  I would say this is a good all-around beautiful tree in the autumn with lovely red fruits as you can see here the birds will also love it because of the fruit.  You can make crab apple jelly it's a nice height for the smaller garden, and won't go over 20 feet so this gets the thumbs up on most days
Prunus Pendula or Cherry Blossom Tree:  Now this is a really useful plant if you don't want height so for example if you don't lose any light from an upstairs window this could be the answer for you. it's got white flowers and it only reaches 10 to 15 feet so yeah it's a lovely compact tree and  very pretty
Silver birch Tree:  they are famous and loved for their wonderful white bark in the winter and the smallest silver birch you can buy it reaches about 13 feet what you've got to understand with trees in when they say small tree in the tree catalogue is that can mean trees that will reach between 13 and 15  feet in a 10-year time. Small is not necessarily tiny so read the small print a beautiful tree just glows in the winter and is a real joy in the summer so love this tree
Aronia Brilliant Tree:   It offers lots and lots of things fabulous autumn colour beautiful white flowers in the spring and these wonderful red berries that are really healthy. This is a key plant also if you have very wet soil this tree will do exceptionally well in that situation.
Monkey Puzzle Tree: This may look very cute and petite but the monkey puzzle tree will grow to the height of over 30 feet over many many years. It is tempting to plant something like this you must make sure that you have space for the mature tree
Research whatever tree you are planting, make sure you prepare the ground properly and you have a very good tree stake.  Also, make sure you know the width and the eventual height that it will grow. Spring is the perfect time to buy because of high stocks in Tree Nursery and you can also sometimes buy bare root trees which will get their feet into the ground quickly.
There are so many choices and species available that it could become very difficult for someone with average or below-average knowledge to choose trees for their household backyard application. Make a mistake in tree selections and it could go a long way in terms of repairs, Maintainance and other costs. 
FINAL THOUGHTS:
Well, I'm proud of you for finishing this kinda-sorta exhaustive guide on choosing the right tree/trees for your garden. We learnt that there's quite a lot to consider when choosing trees as they can be versatile, with hundreds of different species within the same genus to pick from. You may also consider the colour of leaves, flowers or fruits or the shape of leaves while selecting. We hope, that now you can make informed decisions with greater confidence for your space. If you found this useful, do share it with your friends and family.